Hours After Giuliani Demands NYC Mayor Removed – Governor Cuomo Says He Has The Power To Do It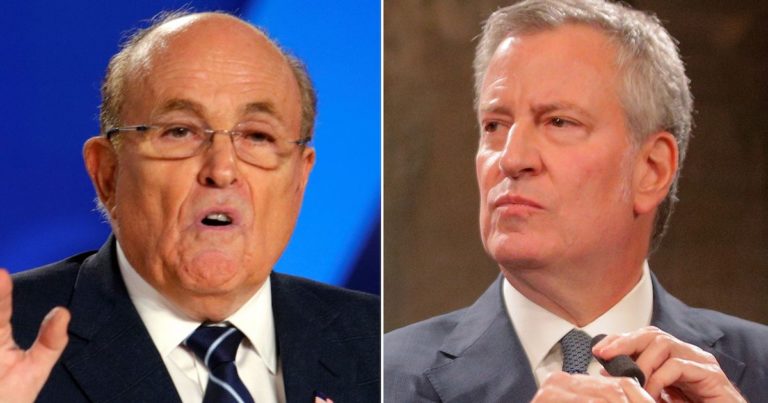 Former New York City Mayor Rudy Giuliani isn't a fan of the current NYC Mayor.
At least in regards to how Bill de Blasio is handling the recent protesting and rioting.
In fact, Giuliani thinks de Blasio has completely lost control of the situation … and it's time to take action.
What action?
Well, the former attorney for President Trump thinks Governor Andrew Cuomo needs to strip de Blasio of power.
From The Hill:
Former New York City Mayor Rudy Giuliani (R) called on New York Gov. Andrew Cuomo to remove the city's current mayor, Bill de Blasio (D), because of his handling of protests and looting in New York City. 
Giuliani doesn't pull any punches! He wants de Blasio gone, plain and simple.
In a series of Tweets, the former New York Mayor really unloaded: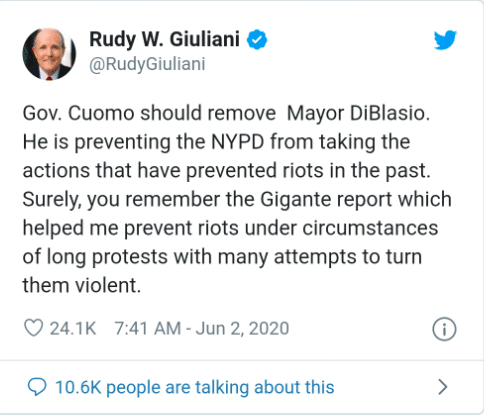 Gov. Cuomo should remove Mayor DiBlasio.

He is preventing the NYPD from taking the actions that have prevented riots in the past.
Boy, wouldn't that be something?
Then Rudy went on "Mornings with Maria" on Fox Business and said the riots "should've been stopped five days ago."
And it looks like he's gotten through to Governor Cuomo. Look what he just said. From Fox News:
Cuomo said at a press conference that the mayor "underestimates" the scope and duration of the problem, suggesting he needs to deploy more police.

In an extraordinary statement, he went on to say his "option is to displace the mayor … bring in the National Guard" and essentially "take over." However, he said, "I don't think we're at that point."
Wow. Looks like Cuomo has been listening to former mayor Rudy Giuliani. Cuomo is clearly unhappy with how de Blasio has handled the situation so far
And he's turning up the heat.
At the moment it doesn't look like Cuomo's not going to throw out the NYC mayor. But if things get worse?
He's putting it on the table
SHARE if you think Cuomo should consider pulling the NYC mayor OUT!