After Mitch McConnell Under Fire by GOP – Senators Gang Up on Him, Consider Replacement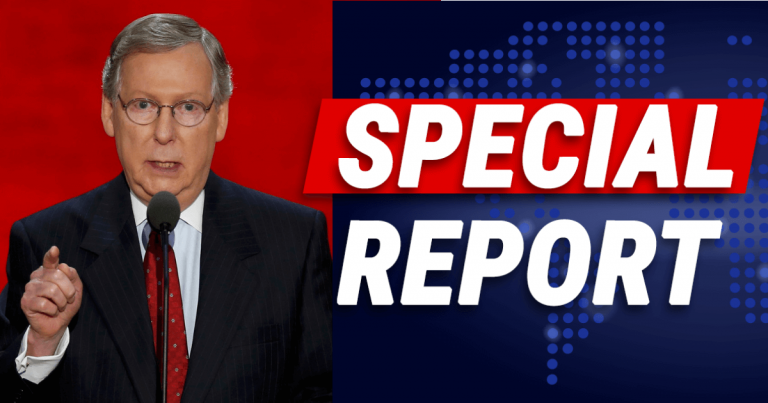 What's Happening:
Republicans are still coming to terms with the result of last week's elections. Many are pointing fingers, but few are looking for solutions. Many GOP strategists at the state level will have to find new ways to bring out the vote, especially in close swing states.
But one thing is clear, D.C. Republicans did little to help win over voters. In fact, one notable Republican seemed to be working against his party. His actions apparently boosted Democratic candidates and dragged down races that should have been easy wins. And now, more and more Republicans are calling for his head.
From Fox News:
"The Senate GOP leadership vote next week should be postponed," Sen. Marco Rubio, R-Fla., tweeted…

Sens. Ted Cruz, R-Texas, Cynthia Lummis, R-Wyo., Josh Hawley, R-Mo., all sent similar tweets Friday. National Republican Senatorial Committee (NRSC) Chair Rick Scott, R-Fla., also called for the elections to be delayed…

Even Sen. Lindsey Graham, R-S.C., who has a history as a moderate, joined the calls for a delay Sunday, citing the Herschel Walker race.
Numerous Republican senators are pushing back voting for leadership because they are opposed to Mitch McConnell getting picked again as their Senate leader. They want to wait until the Georgia runoff, to see just how effective McConnell can be.
This sentiment was echoed by Sen. Hawley, who openly opposed Mitch.
From Breitbart:
"Well, we need good strong independent leadership that actually listens to voters and doesn't just listen to the Washington lobbyists," Hawley said…

The Missouri Republican reiterated his pledge not to support Minority Leader Mitch McConnell (R-KY) for caucus leader.
Hawley accused McConnell of not "offering anything" to independent voters. McConnell, during the elections, urged Republicans not to push their own platform and to instead focus on Biden's failures. How'd that work out? Hawley was ticked off that McConnell didn't promise to secure the border, put more cops on the streets, and fix the economy.
Instead, McConnell seemed to just sit back and do nothing, as if he was trying to help Democrats. Republican senators are noticing. And they might finally listen to Trump and dump old Mitch. Rest assured, the swamp-loving RINO will do whatever he can to keep his power.
But it looks like his day could be done.
UPDATE: It looks like Mitch McConnell is getting a direct challenge by Florida Senator Rick Scott for the Senate leadership, but it remains to be seen if he will have anywhere near the votes to challenge Mitch.
Key Takeaways:
Republican senators are turning on Mitch McConnell, who failed them this election cycle.
Hawley accused McConnell of not offering anything to voters, as Biden continued to fail.
Numerous senators are demanding the vote on Senate leadership be delayed; McConnell refused.