After Governor Cuomo's Aide Betrays Him – Hit With Calls To Resign, Andrew Goes Running To Biden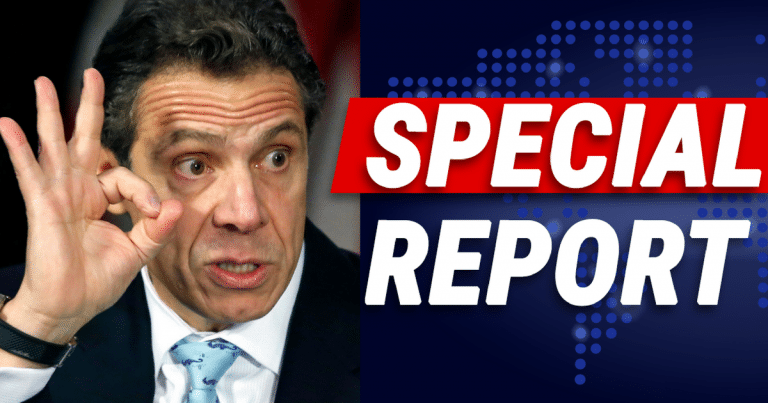 What's Happening:
Well, well, well. Look whose star is falling.
Over much of 2020, all we heard about New York is how great their governor was. The media wasn't impressed by governors like Greg Abbott or Ron DeSantis, despite the amazing work they did.
No, we were told Gov. Cuomo was the greatest leader in a generation. The media was even happy to ignore his major blunders, which made the crisis much worse.
But one of his top aides has spoken out, saying her team covered up the number of nursing home deaths—just to avoid an investigation.
Now, people are calling on Cuomo to resign.
From Fox News:
Cuomo faces potential probe, calls for ouster after bombshell report on state's nursing-home deaths

New York Gov. Andrew Cuomo's political career was potentially in jeopardy Thursday after a top aide told state-level Democrats that Cuomo's administration had withheld data on coronavirus deaths at the state's nursing homes.
What is an embattled governor to do? Run to daddy Biden, it seems.
From Fox News:
New York Gov. Andrew Cuomo is getting away from the state, at least for a few hours, as his nursing-home scandal appears to grow wider…

The White House visit – Cuomo's first since Biden took office Jan. 20 – comes as Cuomo faces growing scrutiny in New York over his handling of the coronavirus, specifically his administration's coronavirus safety measures for the state's nursing homes.
Even Democrats are turning on Cuomo, as news of the coverup hits the airwaves.
Cuomo worked hard over last year to hide the fact that in March he ordered infected patients back into nursing homes. His office even deleted the order from their website, perhaps a part of the cover-up.
Now, his aide is admitting they refused to report on the concerning number of deaths from nursing homes. All, she said, in order to avoid an investigation from then-President Trump's DOJ.
Not great, Andrew, not great.
Cuomo's flight to D.C. comes at a convenient time. But if he thinks Biden has some kind of solution for him, he's dreaming.
So far, Biden hasn't seemed to be a big supporter of his party. He refused to comment on the impeachment push—despite how it's damaging Congress' reputation.
And Biden's ticked off union leaders, with his job-killing policies. What can he do to "save" Cuomo from this scandal?
Right now, the governor of California is facing a recall vote over his leadership in the last year. Maybe New Yorkers will follow suit?
Key Takeaways:
Cuomo was outed by an aide over a nursing home cover-up.
State leaders, including Democrats, have it out for the governor.
As the scandal heats up, he fled to D.C. to meet with Biden.