Lindsey Graham Is Coming For Adam Schiff – Orders Impeachment Stopped For The Sake Of The Country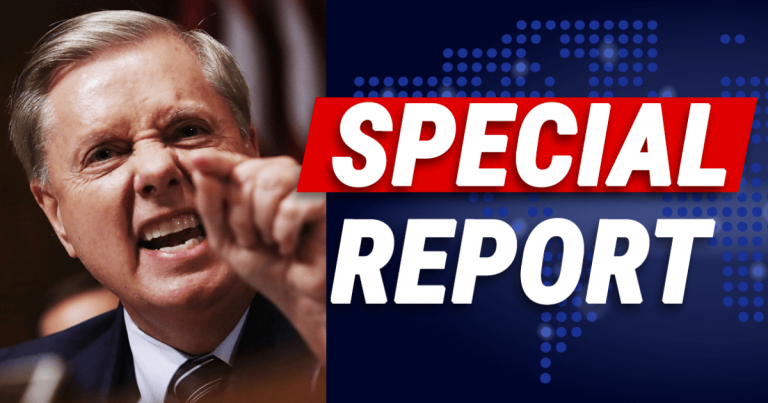 Adam didn't think Lindsey would dare – here he comes!
In the eyes of many, these impeachment proceedings are tearing the country apart.
Tensions were already high, as the gulf between Red and Blue seems to have gotten even wider since Donald Trump's election.
And now, Democrats have kicked off this highly questionable impeachment process … and it's causing even more tension and division.
Well, Senate Judiciary Chairman Lindsey Grahm (R-S.C.) has had enough of it.
He just sent a powerful statement to House Intelligence Committee Chairman Rep. Adam Schiff (D-CA).
And honestly, I think he's just saying what millions of Americans are thinking.
Via Fox News:
Adam Schiff is doing a lot of damage to the country. Graham said. And he needs to stop…

Impeachment is tearing the country apart, I don't want to give it any more credibility than it deserves.
YES!
Graham is absolutely right, and he's also right to refuse participation in the impeachment inquiry.
He said he won't "participate in things I think will destroy the country." Graham added that he's "not going to turn the Senate into a circus."
In my opinion, that's exactly what this impeachment mess is: a circus.
I believe Schiff, House Speaker Nancy Pelosi, and now Jerry Nadler (D-NY) are all causing huge damage to this country.
They're going after the President of the United States when there appears to be little (or no) evidence. And they're getting nastier about it with every passing day.
Graham is 100 percent correct when he says it all "needs to stop."
Furthermore, he sent the following message to President Trump:
But here's my advice to the president:

If the Senate is ready to vote and ready to acquit you, you should celebrate that.
I think we should ALL celebrate that!
The bottom line is that America can't afford more division, and we can't afford more Democrats tearing us all apart.
We need to remain strong and united, and that means ending this impeachment inquiry and returning to one goal:
Making America Great Again!
SHARE to tell Lindsey Graham to end impeachment immediately!
Source: Fox News