Senator Hawley Turns the Tables on Democrats – He Demands Investigation Into Democrats That Came After Him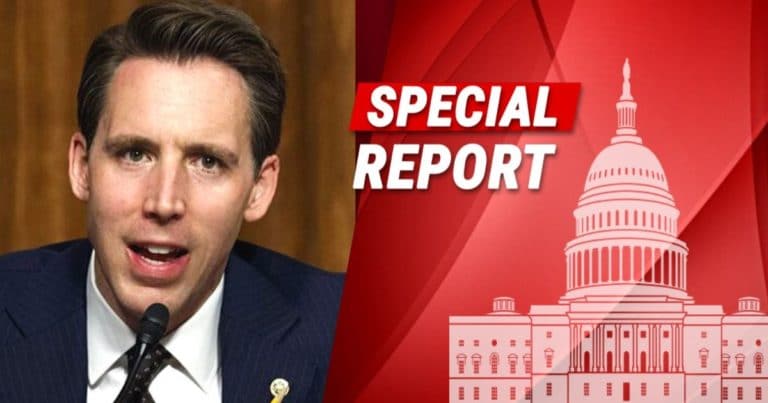 What's Happening:
Sen. Josh Hawley had the guts to stand up to Democrats. So, now they are trying to banish him from their beloved Washington swamp.
He dared to challenge the electoral college vote (something Democrats have done again and again), sparking a Congressional debate.
Democrats tried to bully him into silence by claiming he was responsible for what happened on January 6.
They even tried to get him thrown out of Congress (along with Ted Cruz). And even get his new book on Big Tech censorship canceled.
Well, Josh Hawley is fighting back. From Fox News:
Sen. Josh Hawley Monday slammed the Democratic senators who filed an ethics complaint against him and Sen. Ted Cruz over their Electoral College objections on Jan. 6 — and continued to defend his decision to object to electoral votes during the joint session…

In one of the letters, Hawley, R-Mo., called for the Senate Ethics Committee to investigate the seven Democrats who filed the complaint against him and Cruz, R-Texas, accusing the senators of filing "an unprecedently frivolous and improper ethics complaint… [w]ithout citing any relevant evidence or offering any good-faith argument."
Much like they did against Trump, Democrats accused Hawley of things that didn't seem to be backed up by facts, only innuendo and politics. He blasted them, calling for an ethics violation since they refused to provide evidence for their attacks.
Democrats claimed Hawley—who was following the constitutional rules over the election—was "inciting" conflict.
Like they did with Trump's second impeachment, not a single Democrat could point to anything Hawley did to prove their claims.
Hawley appears to be calling out these Democrats for attacking him over politics. They even called to get him thrown out of office over a "frivolous and improper ethics complaint."
It seems Hawley wants these very same Democrats investigated. If they are trying to destroy the career of a senator over nothing, they must be violating the Senate's own ethics rules.
To his credit, Hawley isn't going so far as to demand these senators be thrown out of office. He just wants there to be an investigation into their behavior.
He is upholding due process, not mob rule. The very opposite of what his opponents accuse him of.
Do you stand by Hawley? Do you want these Democrats investigated?
Key Takeaways:
Josh Hawley is calling for an ethics investigation against seven Democrats.
These Democrats demanded he be thrown out of office, without, in his opinion, backing it up with any evidence.
Democrats did the same against Trump, impeaching him without an investigation or presentation of evidence.
Source: Fox News