Hillary Clinton Just Got Beaten Again – This Time Kim Kardashian Trounces Her in a Legal Knowledge Showdown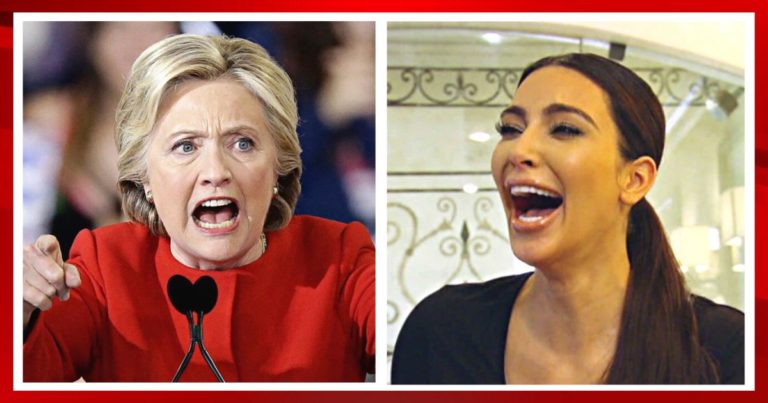 What's Happening:
Geez, what is going on with Hillary Clinton? Just a few months ago, so experts predicted she was going to return in 2024.
But today, she is speaking at small venues at Martha's Vineyard. And she can't even beat a Kardashian at a legal quiz.
From Fox News:
The former secretary of state went toe-to-toe with Kardashian, the reality TV star and criminal justice reform advocate, in a pop quiz on criminal law issues like use of deadly force and self-defense. Kardashian, who last year passed the baby bar exam after completing her first year in a law apprenticeship program, beat the Yale Law graduate 11-4. Clinton
OMG, really? Kim Kardashian, who never turns down a chance to get attention, went on Clinton's new Apple TV+ series.
(A good reason to cancel your Apple TV+ subscription, if you have one.)
The career politician decided it was a good idea to school a woman who just passed the bar. And in a pathetic display, Clinton lost to the reality TV star 11-4.
I mean… that's a real blowout. Clinton couldn't even get five questions right.
And this woman wanted to be president?
I wouldn't trust Kim Kardashian to represent my dog, let alone a person. Sure, she is doing good fighting for criminal justice reform.
But nobody is going to confuse her with Alan Dershowitz. So, for a reality TV star and fashion icon to beat a woman who's devoted her whole life to law?
That's really saying something.
Hey Hillary, you're times up! You can't even beat a woman who was married to Kanye West!
Time to hang up that ol' hat of yours and sail off into the sunset.
You really have to wonder why Tim Cook is wasting millions of Apple's money on a show with Clinton.
I know Democrats are obsessed with that perverse family, but give me a break.
Maybe Apple should give Kim a contract?
Key Takeaways:
Hillary Clinton lost a legal knowledge quiz to Kim Kardashian.
The reality star recently passed the bar exam.
Clinton is hosting a new show for Apple TV+.
Source: Fox News