Hillary Clinton Is Getting Worried About Trump – She Admits The Thought Of Re-Election Makes Her "Sick To My Stomach"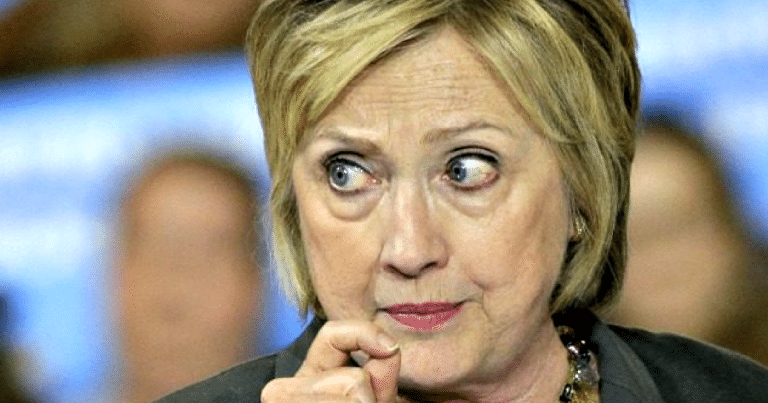 Why It's Important:
If there's one person bitter about Trump's presidency, it's Hillary Clinton.
She got to watch Trump do all the things she wanted to do over the last four years—including appoint 3 Supreme Court justices.
But even worse than knowing a man who puts America first took her job, it's knowing that he's about to win a second term.
The polls might be playing their usual games, but it seems Crooked Hillary can sense where the wind is blowing.
And she's getting "sick" thinking about it:
Former Secretary of State and Democratic presidential nominee Hillary Clinton said the thought of President Trump winning reelection makes her "literally sick to my stomach" on a podcast released Monday…

Clinton said Trump "lives with this specter of illegitimacy" over the 2016 election, which she lost.
Clinton, while on a podcast, revealed she's "sick" to her stomach thinking about a Trump re-election.
I know, right Hill? It's sickening to think we have a president who puts Americans first, not globalist corporations.
It's sickening to see Trump create such incredible job opportunities for black and other minority Americans.
And it's really sickening to see corrupt, career politicians lose their chance to cheat the country.
Clinton thought she had the country tied up in 2016, only to be humiliated by a man who never ran a campaign before.
She had to watch as Trump made good on his promises, bringing the lowest unemployment for black and Hispanic Americans ever, bring back manufacturing, and score historic trade and peace deals.
Oh, and bring the country back from a global pandemic.
That's all very sickening if you don't care about putting Americans first.
Now it seems like Clinton will need bed rest just thinking about how Sleepy Joe Biden has a snowball's chance at entering the White House.
He's even more of a long shot as she was when you realize that Trump's lost few supporters—and most likely picked up a few million more.
Clinton, at least, is smart enough to ignore what the gremlins in the media are claiming. She knows how untrustworthy those polls are.
And she's really sick that she's not in the White House.
Are you going to get out the vote to make sure Hillary Clinton's bad feeling comes true?
Key Takeaways:
      Clinton revealed in a recent podcast that she's "sick" thinking about Trump's re-election.

      The Democrat lost to Trump in 2016, after polls claimed she'd win.

      It appears she's realizing that history might repeat itself on November 3.
Source: Fox News