Hillary Clinton Admits Her Plans For Washington – She Just Announced A "Liberal Tsunami" If Biden Wins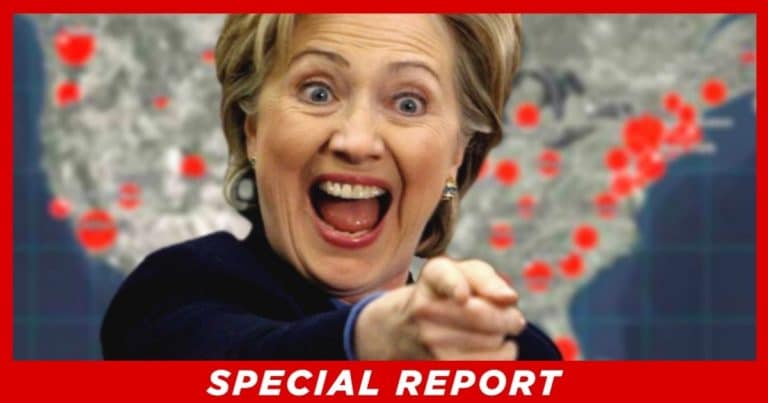 What's Happening:
Hillary Clinton just let the liberal cat out of the bag—but she's a few days too early.
It seems "moderate" Biden is anything but. He's promised radical changes to our courts, economy, and way of life.
In fact, it seems he's getting his ideas from the socialist Squad playbook.
And Clinton appears to be confirming this suspicion. Apparently, if Biden wins, Clinton says there should be a "liberal tsunami":
"I think we're going to have to move quickly. And one of the areas we'll have to move quickly on is the courts. We're gonna have to move quickly on everything, election reform, climate change, COVID relief, expanding healthcare, everything that we care about," she said.
Clinton believes that if Joe wins, he will quickly shove far-left plans onto the American public.
She is expecting radical changes to our elections, "climate change" policy, COVID relief (i.e.: nationwide lockdowns), government healthcare, and "everything" the left cars about.
Which can only mean one thing: goodbye American liberties.
Instead of moderate policies and bringing Americans together, his party wants him to get radical fast.
Democrats are determined to force their agenda onto the country, regardless of how we feel about it.
Some Democrats have even promised "retribution" to anyone who has supported Trump over the last four years.
Sounds pretty democratic, huh?
Clinton is openly saying what Mike Pence warned us: that Joe Biden is a Trojan horse for the radical left.
She revealed that they will do everything in their power to push this country off the edge.
We won't recognize it when they're done.
If there was ever a reason to vote these leftists out of power, it's that.
Key Takeaways:
Clinton admits that Joe Biden would hit the country with a "liberal tsunami."
She is calling for radical changes to everything in our government and society.
Some Democrats even plan to "punish" conservatives who backed Trump.
Source: The Washington Examiner