Hillary's Weinstein Closet Swings Open – It Looks Like Harvey Gave Clinton More Donations Than Any Other Democrat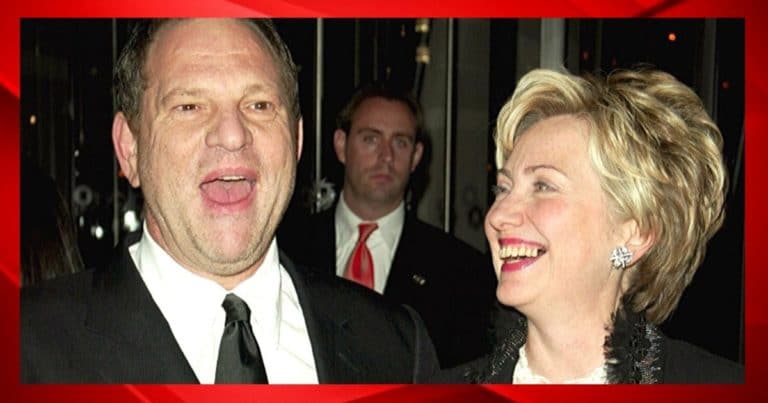 In case you hadn't heard, Harvey Weinstein is guilty and going away for a long time.
But did you know that Weinstein had plenty of high-profile connections in Washington?
And did you know this included 2016 presidential candidate Hillary Clinton?
Oh yes, the connection is very real … and it appears the two were quite buddy-buddy.
In fact, he seemed to like her so much that he apparently supported her more than any other Democrat on Capitol Hill!
Via Fox News:
Hillary Clinton raked-in more cash from Harvey Weinstein than any other politician despite brushing off his donations by claiming he gave money to 'every' Democrat.
How's that for an eye-opener?
Looks like Weinstein, who has been accused of assaulting numerous women, contributed a boatload to the Clinton campaign.
And if you're wondering how much, here are the numbers (courtesy of the FEC):
… the disgraced movie mogul bundled $1.4 million for Clinton during her presidential bid in 2016 and handed her another $73,390 dating back to her 1999 New York Senate seat run.
That's about $1.5 million in total!
Clinton tried to brush this off by saying Weinstein donated to just about every Democrat.
But she's ignoring the apparent fact that the statistics aren't even close:
For example, Weinstein only gave $679,000 to Obama for his 2012 reelection campaign — that's half of what he gave Hillary.
The fallen Hollywood fat cat did indeed give to other top Democrats, including Senators Kirsten Gillibrand, Chuck Schumer, and Cory Booker.
But it seems clear that nobody raked in the cash like Hillary.
Was she aware of the nasty rumors floating around Weinstein? If so, did she even care?
These are questions worth asking. And it also makes us wonder:
How many top Democrats have connections to some seriously creepy people?
SHARE to show everyone Hillary's dirty connections!
Source: Fox News