SICK: Hollywood Gives 'Porny' Daniels Its Most Prized Possession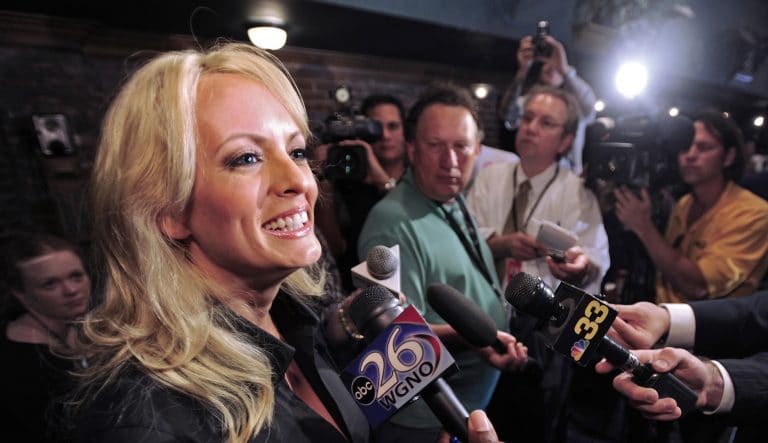 Ah, don't we love Stormy Daniels?
Oh, no, we don't. This disgraceful, ex-porn star has tried to claw a little bit of the spotlight by slandering the President. Even though her story is a big nothingburger, the pathetic liberals in the media try to make it Watergate. Even though we know a real Watergate scandal is really unfolding before our eyes (thanks to Obama's FBI).
The media hyped up Stormy's claims that she had a relationship with Donald Trump. Many years ago. Her tales cannot be corroborated. Trump himself has said she tried to shake him down for cash, thus she was required to sign a non-disclosure agreement.
That agreement she violated to appear on the news. A sad and desperate attempt for this con artist and all-around gross woman to make some money. Hmm, she reminds me of another woman, a former Presidential candidate.
Most people know Stormy is lying. Except for brain-dead liberals. Now the most brain dead of all decided to honor her.
This is going to make you sick.
From The Hill:
The mayor of West Hollywood, Calif., will join city officials on Wednesday to present adult-film star Stormy Daniels with a key to the city and a city proclamation, according to a media advisory.
In the press release, city officials recognized Daniels for her "leadership in the #RESIST movement" and noted that the city has previously passed resolutions calling for articles of impeachment to be introduced against President Trump.
Daniels, the release reads, has "proven herself to be a profile in courage by speaking truth to power even under threats to her safety and extreme intimidation."
The city will also proclaim May 23 "Stormy Daniels Day" in her honor, according to the press release.
There you have it. West Hollywood is officially the worst city in the world. Imagine that.
They are honoring a woman who is famous for getting naked and having sex in movies. A woman that has tried to profit off of a short-lived association with the President. A woman, mind you, that has lied about Trump threatening her.
What else should we expect from such scum bags? The Democratic Party is not run by honest, decent human beings. It is run by crooks who would celebrate a filthy porn star over the President of the United States.
But am I mad? Of course not. Because this is all going to come back on their heads. These lying crooks have tried to destroy Trump. They've done everything in their power to defeat him and every supporter. What has happened instead? Trump continues to win for America. His approval increases. Democrats are losing ground everywhere.
Hmm, it's almost as if being a lying, cheating criminal doesn't pay off!
Source: The Hill