WATCH: Meet The Hollywood Legend Who Just Called Trump 'The Greatest President Since Lincoln'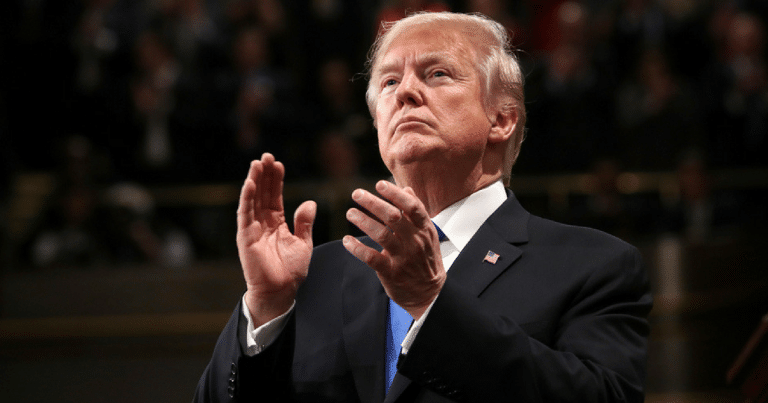 He makes me want to stand up and APPLAUD!
Yes, Hollywood is full of Trump-hating elites.
We've heard people like Robert de Niro and Jim Carrey spout their POTUS-hating garbage for years now.
Frankly, I've reached the point where I think almost every Tinseltown actor needs to be muzzled.
…almost.
There are still a few patriotic celebrities out there who choose to stand by our President. And they're not shy about proving it, either.
One of those celebrities just Tweeted out a couple of videos, praising Donald Trump and begging America to stand by him.
And trust me, you'll recognize this Hollywood legend. Via IJR:
"…Jon Voight is telling Americans they must stand by President Donald Trump.

…[he] offered praise toward Trump by declaring he's the 'greatest president' since Abraham Lincoln."
To my fellow Americans. Part 1. pic.twitter.com/srw4zXCRKJ

— Jon Voight (@jonvoight) May 25, 2019
To my fellow Americans. Part 2. pic.twitter.com/uhqpbzwHhS

— Jon Voight (@jonvoight) May 25, 2019
This is one of the best video messages I've ever seen!
Voight hits the nail right on the head, doesn't he? Maybe my favorite part is this:
"Let us stand up for this truth:

…that President Trump is the greatest president since Abraham Lincoln. God bless America, and may God continue to guide this nation."
WOW.
The clueless liberal Hollywood elites are sure to despise that statement, but Voight said it, anyway.
That takes guts. When basically everyone in your industry thinks one way, and you clearly think another, you're expected to remain quiet.
But not Jon Voight!
And we should really thank him for it, because it's EXACTLY the sort of message America needed to hear.
SHARE this splendidly patriotic video message with your friends and family!
Source: IJR