Hours After Trump Reappears on Twitter – Donald's Latest Tweet Skyrockets, Goes Viral Across America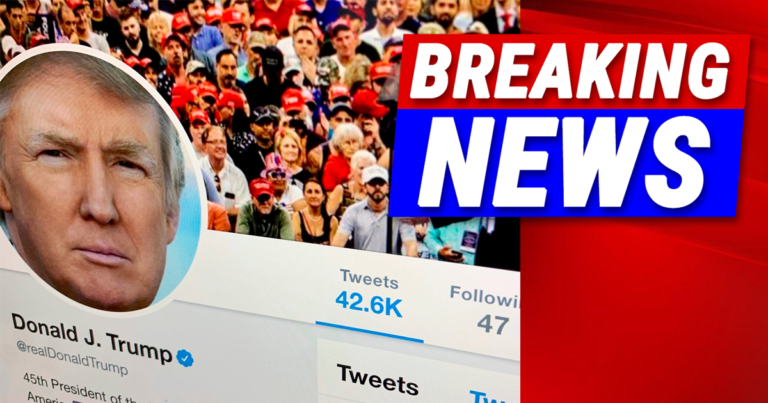 What's Happening:
The left's worst fears came true. Donald Trump is back on Twitter. Funny how Democrats feared this so much–as if this was worse than him getting re-elected. But after a poll from Elon Musk scored over 50% "yes," the new owner of Twitter reinstated the 45th president's account.
Trump's account was restored with zero followers. But soon after the account was turned back on, it was flooded with followers. In less than a day, Trump had over 80 million followers, more than Joe Biden's 30 million. And soon after, his latest tweet triggered a surprising phenomenon.
From The Western Journal:
When Trump's Twitter account reappeared, all of his previous tweets, which stopped in January 2021 when he was initially suspended, became visible. Something interesting began happening within the comment sections of several of his older tweets, especially the most recent or "newest" tweet on his Twitter feed…

That tweet alone was instantly flooded with messages of support and even went viral after a fresh round of retweets…

That particular comment alone received over 16,000 likes. Others like it received lots of attention, too.
To all of those who have asked, I will not be going to the Inauguration on January 20th.

— Donald J. Trump (@realDonaldTrump) January 8, 2021
Although the tweet was two years old, it was flooded with new likes, replies, and retweets. Users expressed excitement and congratulations to Trump beneath that tweet. The overwhelming enthusiasm revealed that Twitter users were happy to see Trump come back.
Along with that came harsh criticism. But that only proves Trump can drive engagement and interaction on Twitter like no one else. The liberals who banned him didn't know what they were doing. They were so eager to "punish" Trump for the events of January 6, that they didn't realize they were shooting themselves in the foot.
Since Elon took over Twitter, the site has been exploding. Millions of people have returned. And user engagement (according to Musk) is up to 1.6 million/daily. That's the highest it's ever been, even in the years before censorship became the norm.
The comments and retweets from Trump's account are further signs that people want Trump back on the platform. Trump used Twitter long before he became president. His comments and replies are the stuff of legend. He has since said he's sticking with TRUTH, his own social network.
But as the 2024 campaign heats up, we shouldn't be surprised to see him return to the Blue Bird.
Key Takeaways:
Users flocked to Trump's Twitter account after it was reinstated.
His last tweet, from 2021, received a flood of new comments and "Likes."
Trump has not returned to the service yet but has received 87.6 million followers.
Source: The Western Journal, Twitter