Hours After Biden Quotes Dictator In Rome – Joe Ducks Out Of Global Photo And Falls Asleep On The Job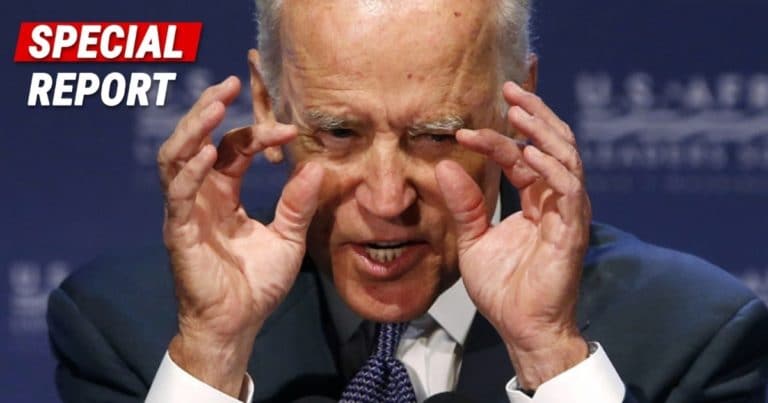 What's Happening:
As Joe Biden's polls plummet, the President is making a bad impression on more than Americans. As we can expect, he is sadly making a mockery of our country all over the world.
The man was meeting with various leaders at the G20 summit in Italy. While there, he made a pretty bad blunder.
From Red State:
At what point do you pull him out..???..!!! pic.twitter.com/2W9Fo1RatV

— Thomas OConnor 🇺🇲 Born '62 🇺🇲 Only LEGAL VOTES (@TheyCallMeTomO1) October 31, 2021
Biden made a reference to the "trains running on time" — a phrase that is associated with fascist former Italian leader Benito Mussolini — and Biden made the comment in Rome…

After the meeting, most of the G20 leaders who were there then went to visit the Trevi Fountain and engaged in the famous ritual of tossing a coin in the fountain. Except guess who was missing?
After Biden's ugly gaffe quoting Italian fascist dictator Benito Mussolini in Italy, he was suspiciously missing from the group photo of other world leaders. Was he hiding? He certainly should have hidden, after this next misstep.
From Twitter:
Biden appears to fall asleep during COP26 opening speeches pic.twitter.com/az8NZTWanI

— Zach Purser Brown (@zachjourno) November 1, 2021
Biden appears to fall asleep during COP26 opening speeches
Man, oh, man. Biden just can't keep it together. He embarrassed himself by referring to a quote made infamous by dictator Benito Mussolini.
A few years ago, the liberal media trashed Trump over a similar comment one of his aides made (but not while in Italy). Where is the outrage when Biden himself says it?
Biden seemed to realize his mistake. Or, better put, one of his aides that makes decisions for him realized what he did. They probably prevented Biden further embarrassment by keeping him from the photo op with other world leaders.
Chances are, they just didn't want him falling into the fountain.
When Biden showed up at the summit in Scotland, things didn't fare much better. While world leaders were making opening remarks, video clearly captures Biden falling asleep. Yet again, an aide comes to his rescue to wake him up.
What would have happened if someone wasn't around to jar him up? Would he have fallen out of his chair, drooling rolling from underneath his mask?
Geez, the man looks like someone trying to stay awake on their way to work. Why isn't this guy at a nursing home—instead of "leading" the free world? Does anyone still believe he has what it takes to do this job?
Not according to the latest approval polls.
Key Takeaways:
Joe Biden made a gaffe by quoting Mussolini while in Rome.
He was later missing from a photo with other world leaders.
While at the COP26 summit, he was seen falling asleep during opening speeches.