Hours After Comey Admits FISA Mistake – President Trump Wants Jimmy To Spend Years Behind Bars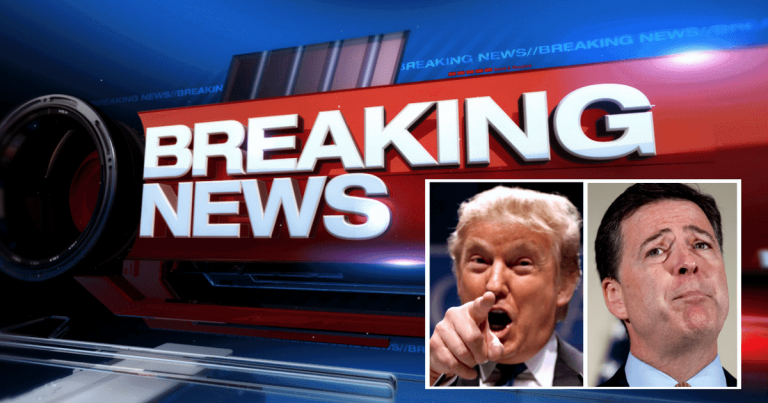 Jimmy admitted it – now Donald is demanding consequences!
Okay, former FBI Director James Comey officially admitted it:
"I was wrong," he said on Sunday about the FBI's probe into President Donald Trump.
He was referring to the bureau's controversial use of the Foreign Intelligence Surveillance Act (FISA).
This is exactly what got him fired … and he finally confessed:
…I was wrong. I was overconfident in the procedures that the FBI and Justice had built over 20 years.

I thought they were robust enough. It's incredibly hard to get a FISA.
Darn right you were wrong, Comey!
Last week, the Justice Department released a new report, citing 17 errors and omissions in the FISA process.
Obviously, this helps Trump's case — it indicates that the surveillance of former Trump campaign aide Carter Page was NEVER right.
But Donald isn't satisfied.
No, he just jumped on Twitter and suggested that Comey should face jail time!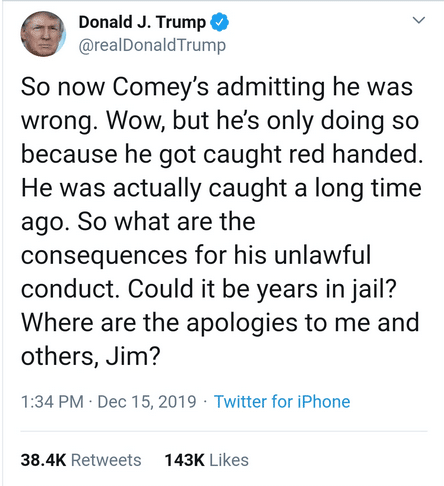 So now Comey's admitting he was wrong. Wow, but he's only doing so because he got caught red handed. He was actually caught a long time ago.

So what are the consequences for his unlawful conduct. Could it be years in jail? Where are the apologies to me and others, Jim?
Exactly! An apology isn't enough!
Comey might be trying to backpedal now, but America deserves more. I believe he should be punished for his actions, don't you?
And Trump wasn't finished on Twitter, either.
He then went after Justice Department Inspector General Michael Horowitz: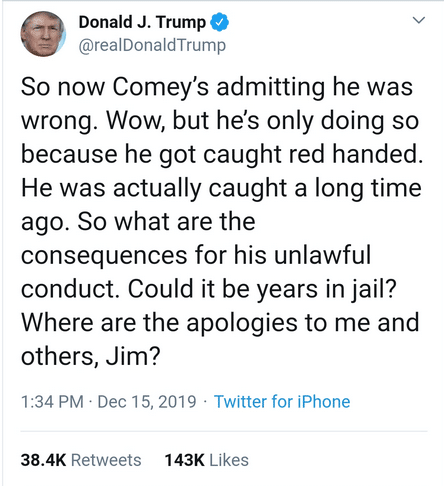 As bad as the I.G. Report is for the FBI and others, and it is really bad, remember that I.G. Horowitz was appointed by Obama.

There was tremendous bias and guilt exposed, so obvious, but Horowitz couldn't get himself to say it.

Big credibility loss. Obama knew everything!
Remember, this surveillance happened in 2016, when Obama was still President and Trump was campaigning.
So, it makes a lot of sense to say Obama and his staff had a lot to do with it!
Comey has already been fired in disgrace; we don't care about his apologies.
The truth is coming out fast and America deserves action, not words. There should be consequences for making such grave mistakes!
SHARE if you agree with Trump that Comey should face jail time!
Source: Politico