Hours After Heated Democrat Debate – It Looks Like They Are Headed For A Trump-Boosting Brokered Convention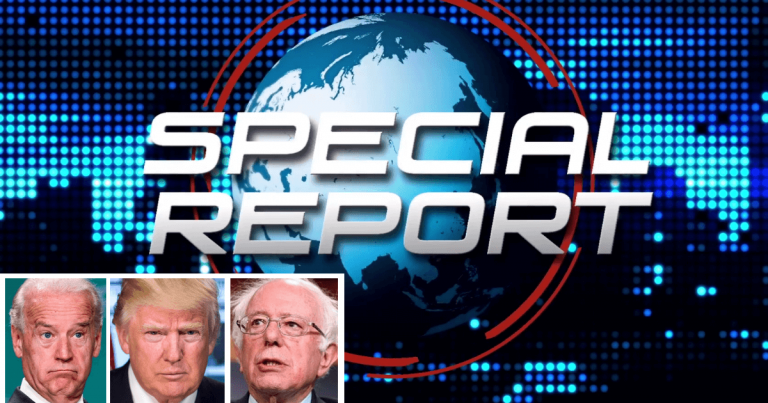 Did you catch last night's Democrat debate in Las Vegas? We don't blame you if you preferred to do anything else.
But it was pretty fun to watch millionaire socialists tear into the billionaire liberals.
It seemed like everyone was trying to take out everyone else. The knives were out for sure.
These would-be presidents were shouting over each other, bickering like angry school children.
And now the numbers from last night are flying in. They are pointing to a worst-case scenario.
From The Hill:
Democrats who were initially skeptical of the prospects for a brokered convention now see it as a likelier scenario with eight candidates still battling it out for the nomination…

One Democrat who worked on two campaigns for former President Obama called a brokered convention "the biggest nightmare Democrats can imagine."
Yikes. Things are looking pretty bad for the Democrats. After last night's debate, it seems even skeptics now believe the Democrats are headed for a brokered convention.
According to the forecasts from FiveThirtyEight, none of the current contenders can achieve the winning number of delegates (1,991) to win decisively.
So there's now a bigger chance that we will see a contested, or brokered, convention, than to see someone win first. Check this out from Five ThirtyEight: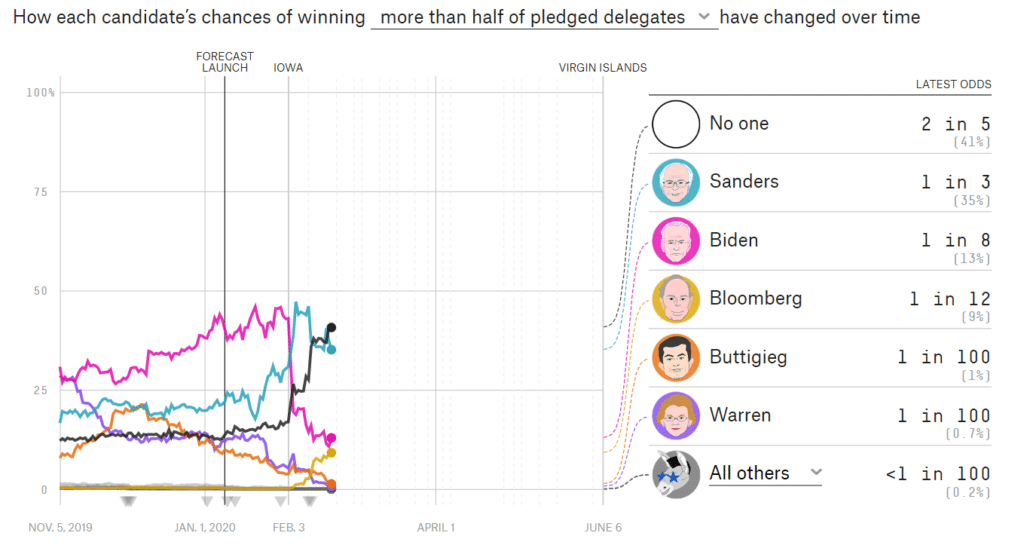 Bernie gets closest with a projected 1,559, but he's still off by a large margin.
Ouch!
That can only mean the Democrats will be entering their convention with a split decision. It could come down to how super delegates vote. That's not great, folks.
We all know how Democrat voters like to complain when elections don't go their way. Some still say Trump didn't "really" win 2016. (Heck, some Democrats are still upset over the 2000 election!)
Imagine what they'll say if Sanders ends up getting the most delegates, but another candidate (like Bloomberg) ends up winning the nomination?
It'll be a disaster. It seems like Sanders' supporters aren't the level-headed type. They felt like the man was robbed in 2016.
If he loses to Buttigieg or Bloomberg, they'll riot (at least figuratively). They might protest the convention or not even vote in the general election.
Or worse (for the left), vote for Trump!
The same might be said about the other candidates' supporters. The party needs to be united behind whoever gets the nomination.
It will take all their efforts to even stand a chance against Trump. But that unity will be hard to come by if there is a brokered convention.
According to some experts, that's more and more likely the outcome.
SHARE if you think Trump is going to beat these Democrats in a landslide!
Source: The Hill, FiveThirtyEight