House GOP Drops Hammer on Top Biden Official – Investigation Launched, Demands for Testimony from Mayorkas and Lackeys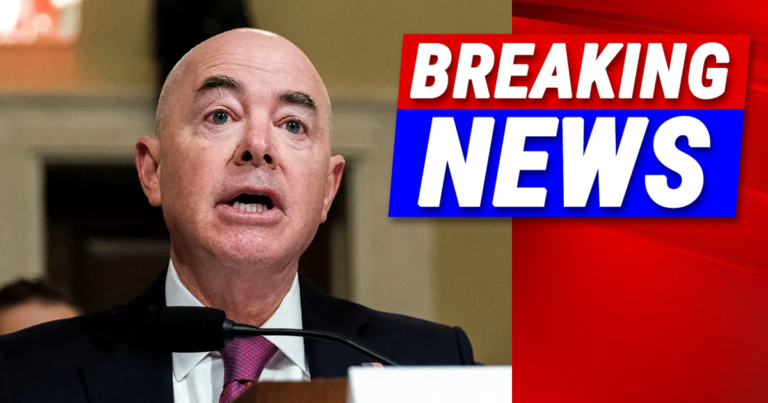 What's Happening:
One good (make that great) thing to come out of the 2022 Midterms is that we finally have people running the House who aren't partisan hacks. Instead of Nancy Pelosi wasting millions on schemes to frame Donald Trump, we have leaders who will work to actually hold the Biden administration accountable.
Recently, House Republicans announced plans to investigate Joe and Hunter Biden over shady business deals. Now, they are revealing who's next on their list. They just revealed their plans to launch numerous investigations.
Heads are going to roll.
From Breitbart:
The Republicans, led by ranking member Rep. Jim Jordan (R-OH), sent a notice Friday to Secretary Alejandro Mayorkas requesting "prompt testimony" from Mayorkas and ten others with key roles in immigration and cybersecurity…

Mayorkas has become one of Republicans' top targets amid illegal migration at the southern border surging to record-breaking numbers under his watch…

Aside from DHS, Jordan has made clear that he and the committee plan to pursue numerous allegations of "politicization" within the Justice Department and FBI.
Ranking House Republicans are on a warpath. They sent put Mayorkas and ten of his goons on notice. Next year, they will be demanding that the DHS and its top officials answer questions over their failure to secure the southern border.
On Mayorkas watch a record number of migrants have flooded into the U.S. The Department of Homeland Security head has done nothing to stop cartel members, human smugglers, and sex traffickers from entering the country.
In fact, Mayorkas has stopped Border Patrol from deporting aliens and have all but left the border open. It appears he is intentionally helping illegal immigration thrive, perhaps on direct orders from Joe Biden.
Republicans have called for answers from Mayorkas numerous times, but because Democrats were in power in the House, he did not comply. But now, with Republicans in the driver's seat, Mayorkas will not be able to hide anymore.
House Republicans will leave no stone unturned to expose Mayorkas' failures to protect our border. If Biden had any sense in his head, he would have fired Mayorkas over a year ago. But this is typical of the Biden administration. It encourages failure and rewards incompetence.
Only when Republicans get to the bottom of Mayorkas' crimes will we perhaps have a safe border again.
Key Takeaways:
House Republicans are rolling out their plans for investigations in the new year.
They are targeting DHS head Mayorkas and ten of his top officials.
Republicans have accused Mayorkas of deliberately leaving the border open.
Source: Breitbart