Speaker McCarthy Rocks Biden on Day One – Republicans Just Voted to Kill Biden's Holy Grail, New IRS Agents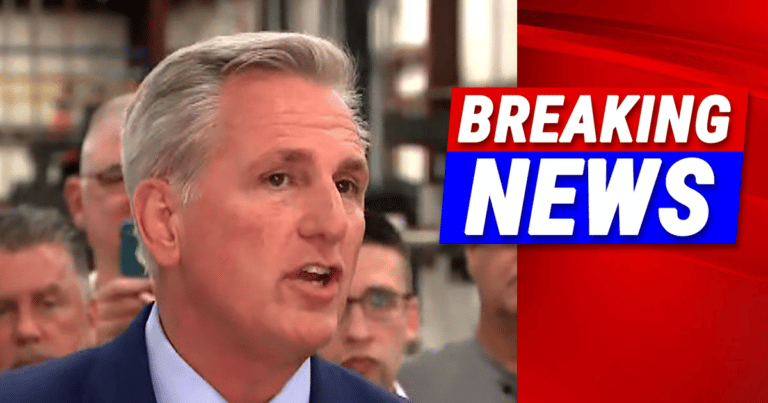 What's Happening:
Republicans made a promise to Americans during the 2022 midterms. If they retook the House, the GOP would work to undo much of Biden's mistakes. They have their work cut out for them, but with the House in Republican hands, there is quite a bit they can do to shut down Joe Biden.
Soon after they elected their next Speaker, it was off to the races. Republicans moved quickly to send a message to Joe and his money-hungry Democrats. And they made good on one big promise that could save millions of Americans in the next ten years.
From The Post Millennial:
The House of Representatives fulfilled Speaker Kevin McCarthy's promise to prevent the Internal Revenue Service from hiring 87,000 new agents and conducting new audits on Americans by voting to rescind over $70 billion in funding to the agency Monday night.
House Republicans passed the Family and Small Business Taxpayer Protection Act, which revokes funding for Biden's 87,000 new IRS agents. The bill cuts the purse strings on one of Biden's biggest holy grails: expanding the IRS to hunt down and rob every last American.
The bill passed 221-210, with every Democrat voting no. Biden snuck in this massive funding for the IRS through his wrongly-named "Inflation Reduction Act." That bill had little to do with inflation and instead expanded the size of the federal government and threw billions to "green" initiatives.
The Congressional Budget Office scored that bill and discovered it would add to the national debt by $114 billion over the next ten years. It would do little to fix inflation. And even by raising taxes, our nation's debt would still grow.
Passing this bill in the House, though, is just the first step. It needs to be approved by the Senate and signed into law by Joe Biden. But it is unlikely Democrats in the Senate will agree, nor old Joe. But if Biden wants to get anything done in the next two years, he will have to negotiate with Republicans.
House Republicans will have a bargaining chip. Get this bill passed or Biden gets nothing. Congress managed to get Biden to sign a bill that revoked his own vaccine mandate for the military. They can easily get him to revoke this IRS funding.
Key Takeaways:
House Republicans voted on a bill to revoke funding for 87,000 IRS agents.
This was one of the promises made by Kevin McCarthy, the new House Speaker.
Republicans can get this bill passed, by bargaining with Democrats in the Senate.
Source: The Post Millennial