Report: Hunter And Joe Biden Could Be In Hot Water – Email Evidence Claims Hunter Called Joe And Chinese Partner 'Office Mates'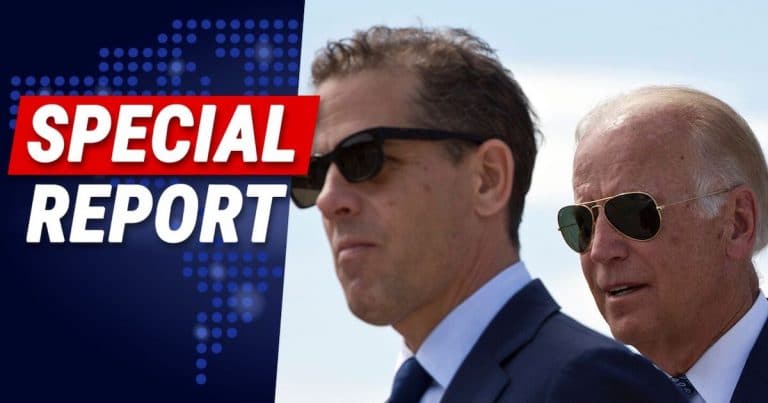 What's Happening:
Ever since the election, plenty of new evidence has emerged about Hunter Biden and his business dealings. Enough to make plenty of Americans want answers. Now we're getting even more.
Regardless of where Joe Biden ends up in January, we have a right to know what his son was doing. That's especially true if Biden becomes the president.
We've learned that Hunter Biden is facing a tax investigation, as well as another investigation by the federal government.
And now a new nugget has emerged that shows a close connection between Joe and Hunter's business. From Fox News:
The Sept. 20, 2017 email, obtained by Fox News, shows Hunter requesting keys for Joe and Jill Biden, along with his uncle, Jim Biden, to the general manager, Cecilia Browning, at the House of Sweden — a building in Washington, D.C., which contains multiple office suites, as well as a number of embassies…

In the email, Hunter Biden also requests keys for Gongwen Dong, whom he describes as an "emissary" for Chairman Ye Jianming — the chairman of CEFC Chinese Energy Co.
A new email seems to say Hunter Biden requested keys made for his "office mates," and listed his father and other family members. He also mentioned an "emissary" from a Chinese energy company.
Funny, isn't it? Joe and his son claimed, again and again, that Joe had nothing to do with Hunter's business.
Joe Biden himself claimed he didn't know anything about what Hunter was doing. That was one of the reasons Democrats fought so hard to impeach Trump, because they claimed they were defending an innocent man.
Yet this email calls all that into question. Why would Hunter call his father an "office mate" if Joe had nothing to do with his business?
We're not talking about occasionally stopping by for lunch. You don't make keys for someone who has nothing to do with your business.
You make keys for someone actively involved in your work. So active, that they need to be able to come and go on their own.
Sounds pretty suspicious, doesn't it? Kind of makes you wonder why all this was not reported before November 3?
Key Takeaways:
A new email reveals Hunter Biden calling his father an "office mate."
He requests keys so his father had access to his office.
Joe claims he knew nothing of his son's business and work.
Source: Fox News