After New Evidence On Hunter's Laptop Emerges – Lindsey Graham Calls For A Hearing Into FBI Sitting On It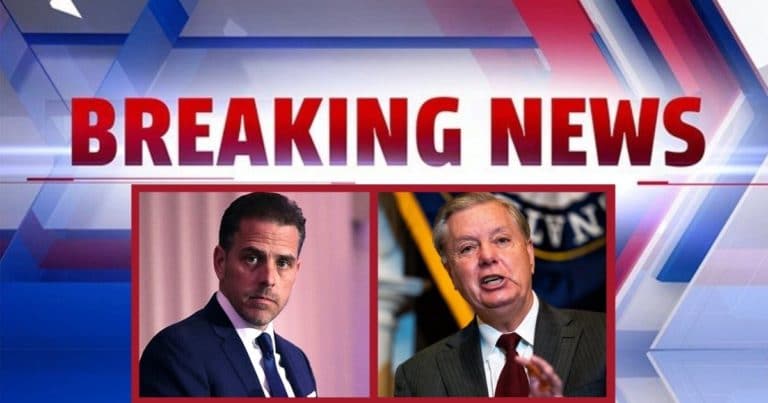 What's Happening:
New evidence has emerged on Hunter Biden's laptop. But will you hear it from the mainstream media? Of course not.
New documents show sensitive information on our leaders sat on his laptop, but even worse, it was quite easy to crack:
In an astonishing lapse, Hunter Biden chose to protect his MacBook Pro computer – crammed with what an IT expert last night described as a 'national security nightmare' and 'classic blackmail material' – with a single, simple password: Hunter02.
If there was nothing on the laptop, that wouldn't be a big deal, right? But the sensitive documents they found on laptop should make Democrat leaders pretty nervous. From DailyMail:
The material, none of which was encrypted or protected by anything as basic as two-factor authentication, includes:
Joe Biden's personal mobile number and three private email addresses as well as the names of his Secret Service agents;

Mobile numbers for former President Bill Clinton, his wife Hillary and almost every member of former President Barack Obama's cabinet; 

A contact database of 1,500 people including actress Gwyneth Paltrow, Coldplay singer Chris Martin, former Presidential candidate John Kerry and ex-FBI boss Louis Freeh
But with all of this evidence, the media's response is that this is "not really a story" (according to NPR) and Hunter is not his dad.
But the Biden family should be concerned, because Lindsey Graham is calling for a new hearing to get to the bottom of what the FBI has been up to holding the laptop since December 2019. From Fox News:
Senate Judiciary Committee Chairman Lindsey Graham, R-S.C., said Sunday that he plans on holding a hearing where he will ask the FBI why they sat on the laptop believed to have belonged to Hunter Biden for almost a year without taking action.
"What you see from the business partner of Hunter Biden is corruption at [an] industrial scale, influence peddling," Graham told Fox News' "Sunday Morning Futures."
"Industrial scale?" From the list of contacts Hunter seems to have had, that seems pretty accurate.
No wonder the Senate race to oust Lindsey Graham in South Carolina has been one of the most expensive ever.
The man used to be pretty wobbly, but he can be credited with getting Brett Kavanaugh through the Democrat gauntlet onto the Supreme Court, and now he is leading the charge to root out corruption.
But America won't get any answers if Biden is elected and the Senate falls into Democrat hands.
Do you want the Biden family held accountable?
Key Takeaways:
Hunter Biden's alleged laptop was protected by a simple password and contained highly sensitive information on Washington leaders and celebrities.
Lindsey Graham is calling for a hearing to get answers on why the laptop remained in FBI hands since December 2019 without action.