Ilhan Omar Calls For "Dismantling The Whole System" – Then GOP Senator Blackburn Drops The Constitution On Her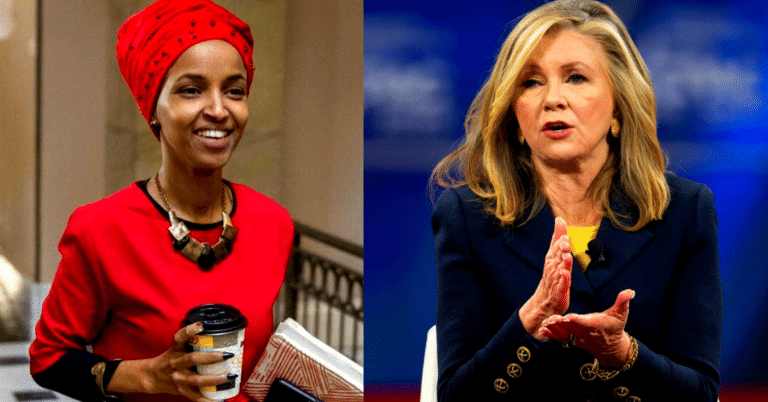 What's Happening:
In the aftermath of nationwide protests and riots, a group of far-left Democrats has pushed for the defunding of police departments. The apparently radical city council of Minneapolis voted to abolish their PD entirely.
Representative from Minnesota, Ilhan Omar, went even further. In a speech this week, she called for the dismantling of both the U.S. economy and political systems. She accused America's way of life as being a "whole system of oppression."
Republican Sen. Marsha Blackburn quickly responded, revealing that what Omar did violated her oath to uphold the Constitution. Blackburn called on Omar to resign:
Sen. Marsha Blackburn (R-TN) urged Rep. Ilhan Omar (D-MN) to resign after calling for the "dismantling" of the U.S. political and economic systems Tuesday…

The clip, which went viral on social media, prompted condemnation from Blackburn, who tweeted, "Ilhan Omar took an oath to defend and protect the Constitution, not shred it. Omar and her Marxist comrades are a threat to our Democracy. Omar should resign."

Ilhan Omar took an oath to defend and protect the Constitution, not shred it. Omar and her Marxist comrades are a threat to our Democracy. Omar should resign.https://t.co/ujBGxbWXtR

— Sen. Marsha Blackburn (@MarshaBlackburn) July 7, 2020
In recent years, the radical left-wing of the Democratic Party has gained more and more influence within its ranks. Long-standing moderate Democrat leaders appear unwilling or unable to rein in self-proclaimed socialists like Alexandria Ocasio-Cortez and Ilhan Omar. Both women (along with their allies) have called for the radical dismantling of our capitalist economy.
But this might be the first time one of these socialists even called out our "political systems," demanding the end of our 244-year-old democracy.
Marsha Blackburn pointed out that every member of Congress swears an oath upon entering office. They vow to uphold the U.S. Constitution. Yet Blackburn argues that Omar's calls for the ending of our economic and political systems violate the oath she swore.
Many left-wing extremists use racism as a reason we should embrace extreme, unprecedented changes to our way of life. Yet recent months have revealed these same activists appear less interested in ending racism and more interested in destroying America's national identity and culture. Furthermore, this is evidenced by the ongoing attacks on American monuments and statues, including figures that were either not involved in racism or slavery or actively fought against them.
Omar appears to be confirming many Americans' suspicions, that Democrats are moving away from the foundations of our country in order to embrace Marxism/socialism. Instead of offering reasonable reforms and positive solutions, Omar and her allies are calling for what can only be described as an overthrow of the U.S. government.
Key Takeaways:
In the wake of the defund movement, Rep. Omar called for the dismantling of our society.
She demanded our economy and political systems to be "dismantled" through accusations of racism.
Blackburn accused Omar of violating her oath of office and demanded she resign.
Source: Daily Wire