After Impeachment Democrats Corner Bulldog Barr – The Justice Department Sets The Swamp Record Straight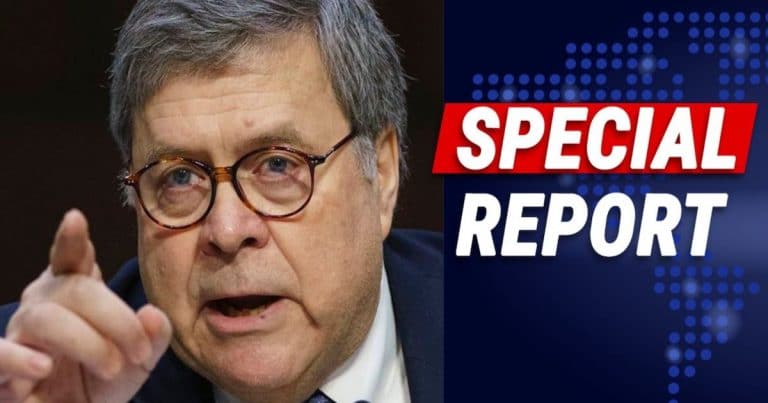 Democrats thought they had the goods on Trump's #1 ally, Attorney General William Barr.
They thought they had more evidence to use in their impeachment trial, thanks to a business associate of Rudy Giuliani.
But the Justice Department has stepped in … and impeachment Dems are once again scrambling to regroup.
It began when Lev Parnas, the Giuliani associate, went on CNN and dropped a bombshell statement:
He said that AG Barr was "absolutely" involved in the Ukraine incident.
CNN's Rachel Maddow made the accusation plain:
Today, we interviewed Lev Parnas. He told us Attorney General Barr was basically on the same team and best of friends with Rudy Giuliani, Victoria Toensing, and Joe DiGenova.

He said AG Barr knew, through contact with Rudy Giuliani, about the effort to get the Ukrainians to announce an investigation of Vice President Joe Biden.
This would've been big. If the Attorney General knew, he could be in BIG trouble.
But bad news, Democrats: AG Barr didn't know.
The Justice Department confirmed that today:
'100% false,' DOJ spokeswoman Kerri Kupec told the Washington Examiner…
Another loss for the impeachment leftists!
Kupec said "there was no truth to Parnas's claims," and said the Justice Department's position "has not changed."
They say Barr had no idea about the Trump call to Ukraine President Volodymyr Zelensky.
And I think we should believe a representative of the Jusice Department … rather than a no-name associate of Giuliani who's already under investigation.
How many times do officials have to correct sources like CNN? How many times have people flat-out lied during this impeachment process?
Well, I know one thing: I believe Trump is innocent. And so is Barr.
Most patriots would agree, too!
Do you think the Democrat impeachment plot is unraveling? SHARE if you do!
Source: Washington Examiner