Trump's Intelligence Chief Signals A Warning – Biden's Position On China Is Not Backed By US Intelligence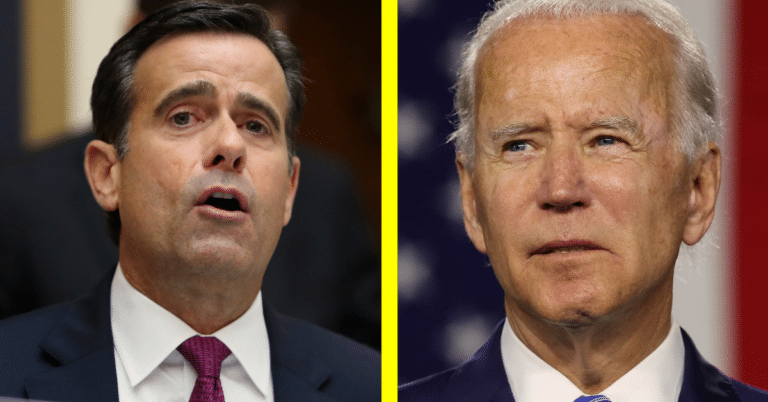 What's Happening:
Before and after the 2020 Election, millions of Americans were worried about how Joe Biden would handle China.
Long ago, he claimed China wasn't a threat. During the election, he said he would be "tough" with the foreign nation. More recently, however, it doesn't seem Biden is really ready to go toe-to-toe with the CCP.
He's even seemed to be getting soft, with a nation that is responsible for the pandemic and mistreats its own minorities.
Now, former Director of National Intelligence, John Ratcliffe, is sending Biden a warning.
From Daily Wire:
"We need Joe Biden and his administration to be successful in the realm of intelligence and national security or we all suffer," Ratcliffe said… "Because the president himself, President Biden, has taken some positions early on, with respect to, particularly with respect to both China and Iran, that, frankly, setting all politics aside are not supported by our current intelligence and the threat landscape."
John Ratcliffe, who served President Trump as Director of National Intelligence, is warning that Biden is not basing his decisions on China on intelligence.
Ratcliffe said that China is a far worse threat to U.S. security than any other nation. He should now, considering he ran our intelligence operations.
While he admitted Russia is worth watching, they are "nowhere near" the threat China poses.
Yet, Ratcliffe claims, Biden is basing his strategy over politics, not data or intelligence.
Are we surprised? Much of what Biden has done in his first month in office appeared to be a knee-jerk reaction to the Trump administration.
Anything Trump did, Biden is trying to reverse. From the economy to the pandemic, to the border, Biden's rule of thumb appears to be: "just do the opposite."
That might even be the case with handling China. Trump was hard on China from the very start. He imposed strict tariffs to compete with the nation—and was able to score important deals.
Biden seems unwilling, or unable, to handle China the same way. Perhaps all those years of being buddy-buddy with the Communist regime are making him soft.
Perhaps Biden really is just doing the opposite of Trump.
Regardless of the political reasoning, Ratcliffe is warning the country: we cannot go soft on China, unless we want them defeating us.
Key Takeaways:
Former Director of National Intelligence is warning America over Joe Biden's approach to China.
Ratcliffe believes Biden is letting politics decide policy, not intelligence.
He warns that China is a much greater threat to national security than Russia.
Source: Daily Wire