While Democrats In Iowa 'Crash And Burn' – President Trump Sets A New Iowa Incumbent Turnout Record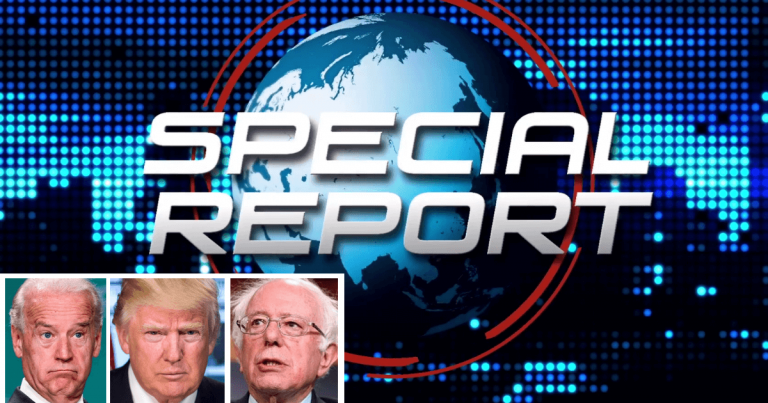 Just in case you've missed it, the very first Democratic vote this year did not go well. Pretty much everyone agrees.
All eyes were on who would win Iowa. Recent polls suggested Bernie Sanders was a shoo-in, with Biden and Warren not far behind.
But wow, what a difference a day makes! Democrats are in deep trouble. The caucus voting was a total mess. As of this writing, we still don't know what the results are of this super-important first vote.
You can imagine how embarrassed the Democrats are over this massive blunder. They say it was a coding error. Okay. Why didn't they test their app once in the last three years?
But as Democrats are reeling from this disaster, Donald Trump announces some very impressive news.
The Republican Iowa caucuses took place last night too. Guess what happened?
From Twitter: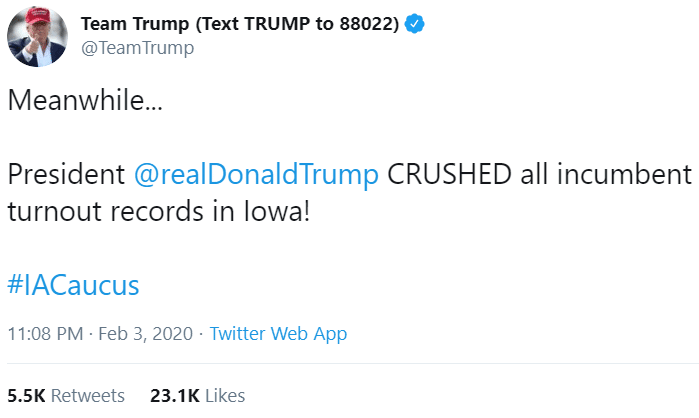 Meanwhile…

President @realDonaldTrump CRUSHED all incumbent turnout records in Iowa!

#IACaucus
Well, look at this! A party that knows how to run a primary! Yes, it's true, Trump doesn't really have to worry about any primary challengers, thanks to being the incumbent.
But party rules still dictate a vote is held. The Trump team sent some of their top surrogates to the great state of Iowa.
They mustered their grassroots supporters who showed up in record numbers to cast their votes for the president.
How much of a record was it? According to Team Trump, they crushed all incumbent turnout records in Iowa.
Why is this so important? You might expect Republicans to sit back and take it easy this time around. Trump is a shoo-in, right?
But the fact that so many showed up in support of Trump for this primary vote shows the level of enthusiasm Americans have for him.
They came out in droves to show the president support, breaking records.
Meanwhile, it looks like the Democrats broke an unofficial record… in most incompetence during a primary vote!
So it looks like Trump won that one too, at least in PR.
Looks like their party can't run anything, even their own internal election. Do you really want them running something as important as say… your health care?
SHARE to tell everyone how Trump dominated Iowa!
Source: Twitter