Iranian President Is Looking Forward To Biden Presidency – Says Joe Will Definitely Bow To Iran And Lift Trump's Sanctions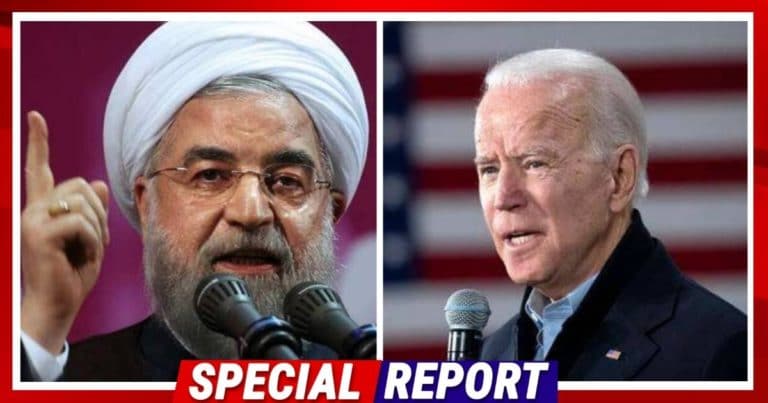 What's Happening:
If it ends up that Joe Biden becomes our president on January 20th, bad times might be coming for the United States. And we're not just talking about nationwide lockdowns, skyrocketing taxes, and "green" policy that will kill oil and energy independence.
It turns out, Joe Biden's position on nearly every issue facing America is concerning. And that includes our conflicts overseas.
President Trump has ended conflicts and de-escalated problems. That includes our longtime enemies, Iran.
But if Joe gets into the White House, Iran is already licking its chops. Because their leader has already made this promise.
From Breitbart:
Iranian President Hassan Rouhani said Thursday he has "no doubt" a Joe Biden administration will rejoin the 2015 nuclear deal negotiated by Barack Obama and remove sanctions on Iran's economy while embracing appeasement across the Middle East…

"I have no doubt that the heroic national resistance of Iran is going to compel the future U.S. government to bow … and the sanctions will be broken," Rouhani said Thursday.
Iran thinks Biden is so weak, so beholden to the corrupt globalist agenda, that he will "bow" to the toxic nation.
I'm not one to agree with a dictator like Rouhani, but when have we ever seen Biden stand up to anyone?
He was Obama's yes-man as the former president signed off on terrible deals around the world. Biden was in support of the Iran Nuclear Deal—which would have ensured the nation would have gained nukes.
Now, Biden may end up being far less competent and coherent as he was as VP. Either he could make terrible deals as president or be too out-of-his-mind to stop his staff from making them.
Iran's leaders are full of hot air. We know this. They lie more often than Democrats. But what assurances have we seen from anyone on the left that they intend to hold this rogue nation accountable for their actions?
Show me the evidence… I'll wait.
Key Takeaways:
Iran's dictator claims Joe Biden will "bow" to Iran.
Biden might restore the Iran Nuclear Deal that could give them freedom to obtain nukes in the future.
Biden has a poor track record when confronting foreign nations.
Source: Breitbart