Insider Report Pulls Back Curtain on IRS Plan – They Spent $10 Million Silently Arming Up for Years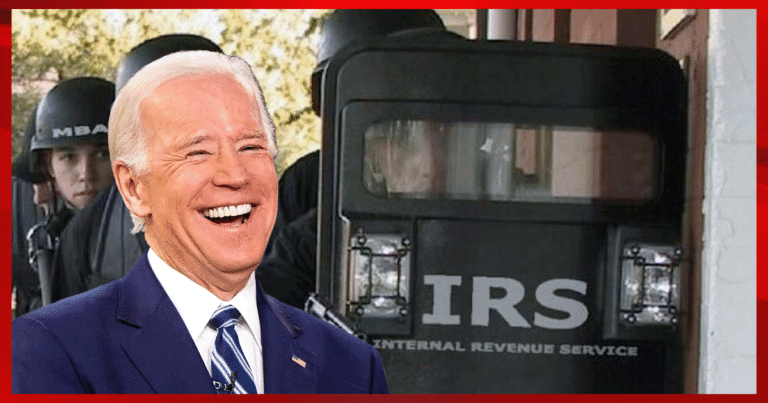 What's Happening:
Joe Biden's falsely named "Inflation Reduction Act" did very little to lower inflation. In fact, it was a Trojan horse for some of the worst socialism America's ever seen. One infamous part of the law was the hiring of 87,000 new IRS agents over the next ten years.
It seems the IRS is gearing up for a big move against working Americans.
But it's worse than that. We learned not too long ago, that the IRS is trying to hire agents that can carry firearms and use "deadly force." Really? Why do tax collectors need guns–isn't robbing Americans every year bad enough? But now we are learning they've been arming up for something, for a long time.
From the New York Post:
A new report shows the Internal Revenue Service has been stocking up on weapons, ammunition and combat gear to the tune of $10 million since 2020.

The findings released last week by OpenTheBooks, a watchdog group that tracks government spending, reveal that in 2021 alone the IRS spent more than $5 million shoring up its arsenal for its increasingly militarized agents.
What the heck is going on? A new report shows that the IRS has spent around $10 million on rifles, handguns, ballistic shields, and body armor vests. Not to mention tactical gear and lighting. Do bean counters really need that kind of heavy gear?
What, are they going to pull out an AR-15 because we didn't fill out our W2s right?
The left claims that this is only for IRS agents that go after organized crime and drug traffickers. Don't we have FBI agents for that? When the FBI raids a building to take down a drug lord, do we really need an IRS agent running around with them?
Is that really the priority, finding out how much a kingpin owes the IRS? I'd think stopping all the murder and drug pushing is more important.
Or maybe this is more than just stopping gangs? Perhaps this is just an attempt by the IRS to bully and intimidate law-abiding citizens? Joe Biden needs to shake down every last working America to pay for his socialist agenda. Americans aren't too happy that they have to lose so much money every year to a greedy, uncaring system.
Perhaps these agents will be doing more than just catching mob bosses? All the more reason for Americans to call for an end to the IRS.
Key Takeaways:
The IRS has been stockpiling weapons and tactical gear for years.
The tax agency has spent as much as $10 million on guns, body armor, and shields.
This comes as Democrats raise taxes to pay for their socialist spending spree.
Source: New York Post