Comey Might Be In Deep Trouble Again – Now Feds Are Investigating Him For Russian Leak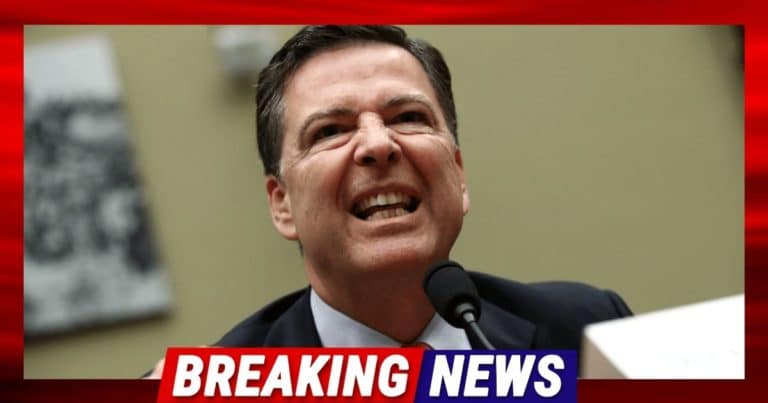 I'm sure you thought you heard the last of James Comey. But the former FBI might finally face the music.
America was shocked when, back during the 2016 Election, James Comey announced to the world that Hillary broke the law.
Then he went on to say that she would not be prosecuted, because she "didn't know" what she did was illegal.
How would you like to get that kind of special treatment?
Comey is also known for launching the bogus investigation against Donald Trump over Russia. He was later torched by the IG report, although the Inspector General said he shouldn't be prosecuted.
But now, after all this time, the DOJ might actually be holding this guy accountable.
From The Hill:
Justice Department officials are investigating a years-old classified Russian intelligence document leak and whether former F.B.I director James Comey was the person who illegally provided reporters with information…

The probe is the second time federal officials have looked into Comey regarding leaked information.
Looks like the DOJ is investigating one of the (seemingly many) times Comey leaked classified documents to the press.
We were stunned when Comey admitted, to Congress, how he leaked documents to a Harvard friend. That friend then directly sent them to the liberal media.
Comey admitted to leaking sensitive materials, just to hurt the president. Yet he never faced charges or was held accountable.
This new investigation suggests that Comey once again was leaking information to reporters. Information, by the way, that was supposed to be top secret.
It seems like Comey had a history of leaking information to the press. We shouldn't be too surprised. The D.C. swamp loves leaking stuff to the press.
That seems to be the only thing they are good at!
Through all the ups and downs of this drama, we've wondered what Comey was really up to. The IG reporter slammed him for his irresponsible behavior.
They said that he set a dangerous example for FBI agents. If they followed his lead in leaking secrets to the press, no investigation was safe.
Yet Comey hasn't been prosecuted for his actions. Why not?
Do you think if you or I did what he did, we'd be left off the hook? I doubt it.
Maybe, soon, this guy will face the penalty for his actions.
SHARE if you want James Comey brought to justice!
Source: The Hill