After Kevin McCarthy Holds the Line on Debt Ceiling – Senior Democrat Clyburn Comes Clean, Admits They Need to Negotiate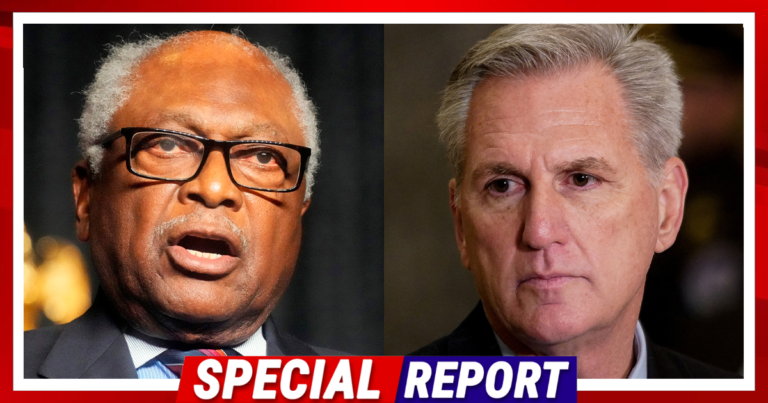 What's Happening:
Once again, the country is about to hit its debt ceiling. Biden is spending so much of our children's future wealth that twice in his administration we are reaching the debt ceiling. Biden's idea of "building back better" is burning through cash we don't have, making sure we and our children are crushed by taxation and economic decline.
Kevin McCarthy has stated flatly that he will not support raising the debt ceiling, without accountability. If Democrats want to keep spending our money, they will need to work with House Republicans, who hold the majority. At one point, that sounded impossible. But, thanks to McCarthy's resolve, one top Democrat had to make this admission.
From Breitbart:
Rep. James Clyburn (D-SC) stated that while he thinks the debt ceiling shouldn't exist as a matter of law and failing to raise the debt ceiling would be catastrophic for the United States, Democrats should negotiate with Republicans on raising it and that "In a democracy, you always negotiate."

[…]

Host Kristen Welker then cut in to ask, "[V]ery quickly, should Democrats negotiate on this issue, just yes or no?"

Clyburn cut in to respond, "We should always negotiate. In a democracy, you always negotiate."
Well, look at that. Democrat James Clyburn admitted that Democrats will have to negotiate with Republicans on this issue. If Biden wants to keep spending to "rebuild" the swamp–I mean, America, his party will have to negotiate with House Republicans.
That means Democrats will have to play ball with Republican demands. If McCarthy stays the course, we could get funding for the border wall, defunding for Biden's IRS army, and an end to endless bankrolling of the war in Europe.
I find it hilarious that Clyburn complains that we have a debt ceiling at all. He claims other countries don't have one. Of course! Why not let these crooked thieves in D.C. spend as much as they want, with zero limit!
My goodness, how dumb do they think we are? The debt ceiling is in place so that Democrats can't bankrupt the country on wasteful government projects. If Clyburn had it his way, we'd be so far in the red, China would be putting its welcome mat in front of our border.
It's unclear what deals might be struck over the debt ceiling. But if Republicans are smart, they will not budge an inch until they get justice for the American people.
Key Takeaways:
Democrat Clyburn admitted Democrats have to negotiate over the debt ceiling.
This comes after Kevin McCarthy refused to budge on raising the debt ceiling.
With Republicans in control of the House, Democrats need their support.
Source: Breitbart