Jim Jordan Just Jumped Joe Biden – He Lets Loose On The President For Daring To Silence The Media At The Border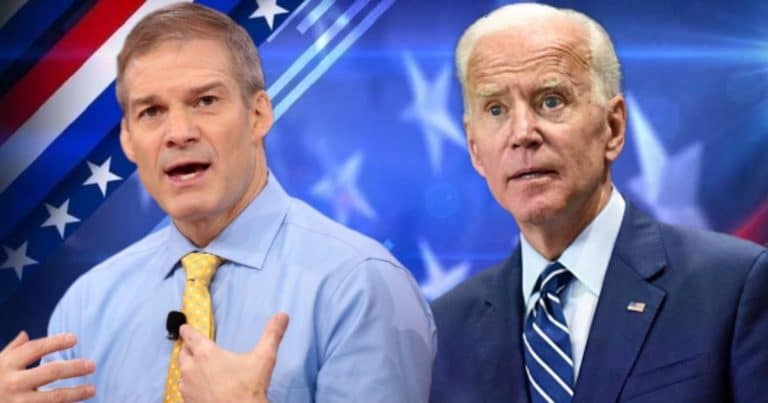 What's Happening:
One of Rep. Jim Jordan's biggest strengths is exposing what the left is trying to do in secret.
He did a great job of this during Pelosi's first impeachment of Donald Trump. And today, he continues to cast a light on the left's schemes.
We've heard about how Joe Biden has tried to cover up what is going on at the border. The media finally got in to reveal the exploding crisis.
That might have convinced people that Biden is finally being transparent. Not quite. And Jordan is letting us know.
From Fox News:
Ohio Republican Rep. Jim Jordan argued on Sunday that the reason the press is not allowed to visit migrant facilities is because the Biden administration does not "want the American people to know what's going on."…

"If the press were allowed in, the Border Patrol agents would tell them exactly what they told us, namely that the reason for this is because of the policy that Joe Biden has now adopted, which is we're not going to keep people in Mexico, the policy that President Trump had," the Ohio congressman added.
Biden allowed some media access to just one facility at the border. That was enough to show us just how bad things are getting down there.
But since that footage, we've learned little else about what is happening. Is Biden finally going to enforce our border laws?
Will he treat the people down there with respect? Maybe require they wait in Mexico and discourage them from coming over when we aren't prepared? Deport those who should be deported?
Probably not, since he is not letting the media continued access to what's going on.
In fact, Jim Jordan is accusing Biden of wanting to hide the reality from the American people.
Biden dropped many of Trump's measures, perhaps hoping to score points with progressives. But it seems he didn't anticipate the boom of border crossers, especially children, that resulted in his decision.
Ever since then, his administration has been scrambling to cover all this up.
But with each passing week, it seems things are getting worse.
When is the administration just going to admit its failure and do the right thing… or will they have to be voted out of office?
Key Takeaways:
Jim Jordan blasted Biden for keeping media away from the border.
He accused Biden of trying to hide the facts from the American people.
The border has been dealing with an intensifying crisis ever since Biden dropped many of Trump's orders.