After Biden Sided with China Spies Against Americans – Now Joe Scrambles to Save His Own Skin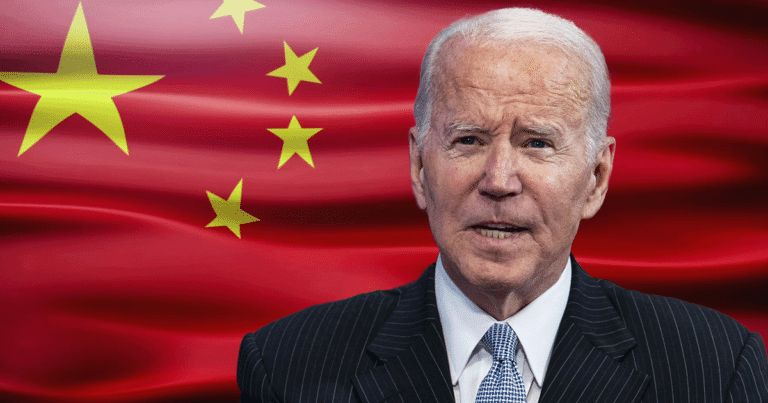 What's Happening:
It seems like, finally, government officials are waking up to the threat of "social" app, TikTok. The company that runs this service is based in China, meaning it is under the control of the Chinese Communist Party.
Many leaders, including the head of the FBI, warned that the millions of Americans who use this app have handed over their private information to the communist government. Now, Biden is reportedly scrambling to shut down this pipeline of data to our enemy. But, as he's doing this, he is trying to cover up one dirty secret: he deliberately shut down a Trump-era rule that could have stopped this.
From The Post Millennial:
The Biden administration has demanded that TikTok's Chinese owners sell their stakes in the social media app or be banned in the US, according to Reuters…

Trump signed an executive order banning transactions between ByteDance and US-based users of the app, according to NPR. In 2020, under pressure from then-President Trump, ByteDance attempted to finalize a deal with Walmart and Oracle Corp to shift TikTok's US assets into a new entity but was ultimately unsuccessful. Another deal with Microsoft also fell through…
Shortly after Biden took office, he dropped his predecessor's attempt to ban the app in the United States.
Well, look at this. President Trump understood the threat TikTok posed to the American public. A social app being used in America that's controlled by the Chinese Communist Party? That is insane. Trump put pressure on ByteDance to sell China's stake in the app to American companies.
But those deals fell through when Joe Biden axed the whole thing. Among the many idiotic decisions Joe made to undo Trump's progress, he stopped efforts to remove China's control over TikTok.
That means the Chinese government has had two years to freely spy on Americans who use this app. And more than that. With access to users' phone data, China has information on people who don't even use the app.
Numerous state governors as well as U.S. congressmen have raised the alarm over this app. Some states have banned it from government devices. But only now does it seem that Biden is doing something. A day late and a dollar short, as usual.
Unless he comes down hard on China over this, he must face investigation.
Key Takeaways:
Joe Biden is taking steps to force China to sell its stake in social app TikTok.
President Trump had previously worked to stop China from spying on Americans via this app.
Biden shut down those efforts, allowing China to spy on Americans for over two years.
Source: The Post Millennial