Biden Sent Reeling by Top Republican's Accusation – Joe's Weakness Could Cause WWIII, Says Rep. McCaul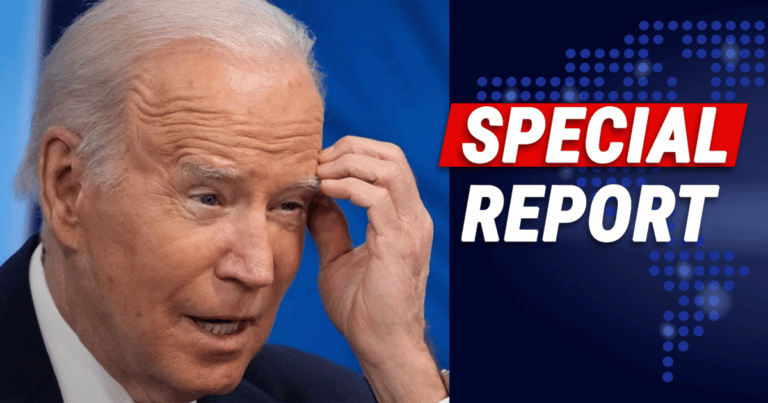 What's Happening:
We don't have to tell you that Joe Biden is a poor leader. Aside from signs of mental frailty, Biden has never had a backbone. The Democrat has always been a yes-man, doing whatever was convenient for his career. But now, with the stakes as high as they are for America, his lack of leadership is costing us big time.
The chairman of the House Foreign Affairs Committee, Republican Michael McCaul, is gravely worried. He suspects Biden's weakness is going to come back to hurt the U.S.–and people around the world. Because, during a recent interview, McCaul predicted Biden's projected weakness is going to encourage China to do the unthinkable.
From Breitbart:
House Foreign Affairs Committee Chairman Michael McCaul (R-TX) said on this week's broadcast of "Fox News Sunday" that the possibility of war between China and Taiwan is "very high." […]

"It could happen. I think as long as Biden is an in-office projecting weakness as he did with Afghanistan that led to Putin invading Ukraine that the odds are very high we could see a conflict with China and Taiwan 10 the Indo-Pacific."
You have to be blatantly dishonest to reject what McCaul is saying. Biden's weakness and inability to lead allowed the Taliban to take back Afghanistan (after we kept it free for 20 years!). Again, Biden all but encouraged Putin to invade Ukraine, in a shocking show of weakness just weeks before the invasion.
Many experts believe Biden's ongoing failures on the world stage will ensure China's invasion of Taiwan. For a while now, China has been claiming Taiwan belongs to it. They have made numerous threats. And since Biden failed to protect Afghanistan or Ukraine, why wouldn't China try something?
On top of that, we know that Biden is in China's pocket. He has bent over backwards to help Chinese companies, at the cost of American companies. Many fear Joe and his family got rich, thanks to the CCP. Would this man, compromised as he is, do anything to stop China from attacking Taiwan?
You know the answer to that. The only way we can ensure Taiwan is safe, is by getting rid of this weak "president."
Key Takeaways:
Top Republican Michael McCaul said Biden's "weakness" will motivate China to attack Taiwan.
Biden failed to defend Afghanistan or Ukraine from invaders.
Joe Biden has a long history of collusion with China, prioritizing the country over America.
Source: Breitbart