Biden Gives Fetterman Eyebrow-Raising Endorsement – America's Barely Coherent President Calls John 'Incredibly Bright'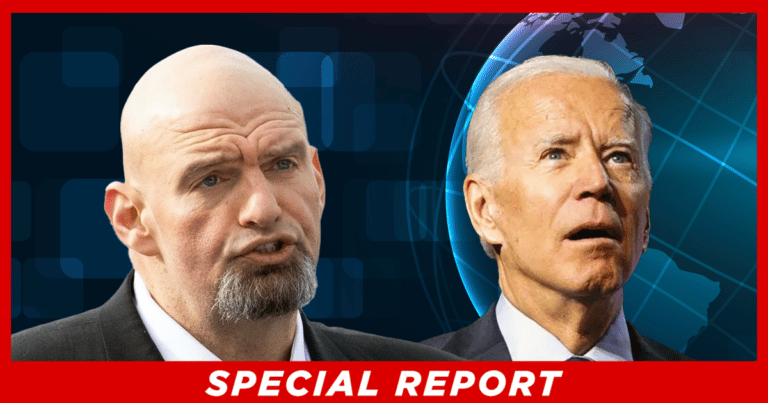 What's Happening:
It looks like Democrat candidate for senator John Fetterman is in big trouble. His race against Republican Mehmet Oz was tightening by a lot. But now Democrats fear the worst after his terrible debate performance. The man, who suffered a stroke during the summer, shocked viewers with his incoherent comments and confusing remarks.
Things are getting so bad, the campaign is relying on the White House to save it. Joe Biden and Kamala Harris are scheduled to campaign for the man–a very bad sign, considering Joe's terrible approval numbers. And now, the White House had to issue a comment from Joe defending Fetterman's mental health.
Oh, this is hilarious.
From Fox News:
White House Press Secretary Karine Jean-Pierre said on Wednesday that President Biden finds Pennsylvania Democrat U.S. Senate nominee John Fetterman as "impressive," but declined to weigh in on whether he should release medical records…

"In personal conversations that the president has had with the lieutenant governor, the president has found him to be an impressive, incredibly bright and talented person who's just as capable as always to carry the duties of his office," Jean-Pierre said. "And that is what the president has observed himself."
LOL, oh my goodness! If you need Joe Biden to defend your intelligence and ability, you really are in trouble. Biden, through White House press secretary Karine Jean-Pierre, claimed that Fetterman was "impressive, incredibly bright and talented." Uh… what does Joe know about any of that?
This is actually the worst endorsement Fetterman could have gotten. Biden's judge of character is in the toilet–given the kind of people he picked for his cabinet. He selected Pete Buttigieg to lead America's infrastructure. He's a corrupt mayor whose administration was under federal investigation.
Biden's secretary of state, defense secretary, and attorney general are all losers. They have politicized their agencies–when they are not falling flat on their faces. So, you'll have to forgive us if we are not comforted by Joe's estimation of stroke victim John Fetterman.
Fetterman's health is so shaky, he won't even release his medical records. You don't do that if you're in the pink of health. But we all can see the man is not fit to run for Senate, let alone be a senator.
And for Biden to have to come out and say that… proves it.
Key Takeaways:
The White House claimed Biden thinks Fetterman is "impressive" and "incredibly bright."
This comes after Fetterman's terrible debate performance.
Fetterman appears to have not recovered from his recent stroke.
Source: Fox News