After President Biden's Disastrous Midterm Blitz – Joe Gets a Direct Rebuke from Senator Manchin and the Washington Post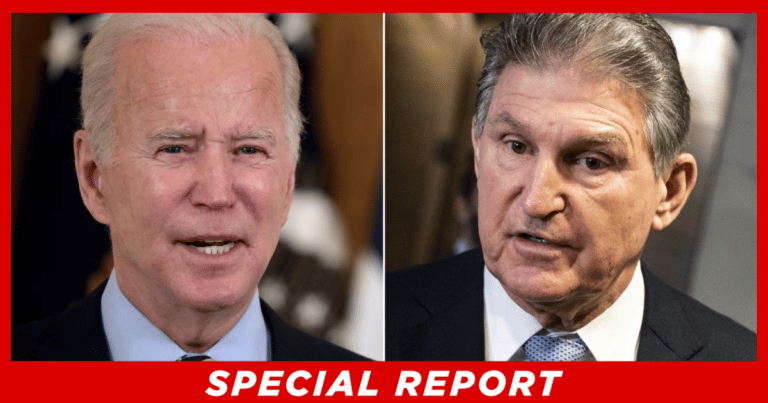 What's Happening:
Despite all common sense and logic, Democrats have let Biden speak. With just days before the election, Joe Biden was going around trying to "help" Democrats win. But the polls all seem to agree: Biden's dismal failures as president have dragged down his party.
But he wasn't done yet.
During a recent appearance, he claimed he "cut the federal debt in half." Yes, really.
This is a bald-faced lie, since the federal debt is somewhere above $30 trillion. Biden only made that worse with his "stimulus" bill from 2021 and other massive expansions of government spending.
He wasn't done, though. At another event, he promised to shut down our coal plants.
From Fox Business:
President Biden said Friday that coal plants are too expensive to operate, and "we're going to be shutting these plants down all across America" in order to shift to wind power in a comment that drew criticism from the Republican National Committee.
Yes, because clean, reliable coal can easily be replaced by wind power. I'll remind you that wind turbines are useless, whenever there's no wind! Which, of course, is totally unpredictable. Unlike coal, which burns regardless of the weather.
But Biden exposed his America-last agenda, perhaps best, with his final insane claim.
From Daily Wire:
President Joe Biden (D) snapped at a young woman who attended a political rally that he hosted on Sunday at Sarah Lawrence College in New York for gubernatorial candidate Kathy Hochul.

"No more drilling. There is no more drilling," Biden snapped at a young woman in the crowd. "I haven't formed any new drilling."
Wow. Well, he said he'd shut down American drill in 2020. At least he's consistent… in destroying the U.S. economy. Biden has gone out of his way to shut down drilling for oil and gas on federal land. That move (from early in 2021) is the biggest factor in America's current energy crisis.
Not Putin. Not OPEC. But Biden. Even as energy prices soared, Biden refused to reopen land for drilling. Meanwhile, he went to Venezuela and Saudi Arabia to beg them for oil. Maybe this woman at Sarah Lawrence is too stupid to understand that hypocrisy (why can Venezuela drill for oil but not us?) but the rest of us do.
Biden really stepped in it, this time. Because after winning over moderate Democrat Sen. Manchin, he just lost him with his promise to end coal mining.
From Daily Caller:
West Virginia Democrat Sen. Joe Manchin demanded President Joe Biden apologize for promising Friday while on the campaign trail to shut down coal plants "all across America." […]

"President Biden's comments are not only outrageous and divorced from reality, they ignore the severe economic pain the American people are feeling because of rising energy costs," Manchin stated according to Fox News.
He's definitely not going to get an apology. Karine Jean-Pierre tried to duck the backlash, claiming Biden's words were "twisted to suggest a meaning that was not intended." Uh… Karine, you need to do better than that. Biden outright said he was going to shut down coal plants "all across America."
You can't "twist" those comments to conclude Biden wants to shut down coal plants across America.
But maybe Manchin should have taken a stronger stance against Biden when he backed his latest spending spree? His words fall on deaf ears now, after Manchin betrayed West Virginia by voting for Biden's bill months ago.
Biden's idiocy, though, is getting worse–as the Washington Post had to reinvent their "Pinocchio" system for his lies.
From Fox News:
The Washington Post gave President Biden a "bottomless Pinocchio" in a fact check of several recent claims he's made, including statements about Social Security…

The president also claimed recently that gas was over $5 a gallon when he took office.
Wow, Joe. Biden's made so many false claims, that the Washington Post had to hit him with "bottomless Pinocchio" several times. This means the statement was so false, it went beyond their normal rating system.
Way to reach new levels of failure, Joe. We don't even know what to say at this point.
Key Takeaways:
Joe Biden stumbled numerous times in speeches leading up to the midterms.
He promised to shut down coal, bragged about ending drilling, and lied about "halving" the federal debt.
Joe Manchin blasted Biden's coal promise; Washington Post gave him a "bottomless Pinocchio."
Source: YouTube, Daily Wire, Fox Business, Daily Caller, Fox News