Joe Biden Loses It On Donor Phone Call – He Just Begged His Supporters To Stick With Him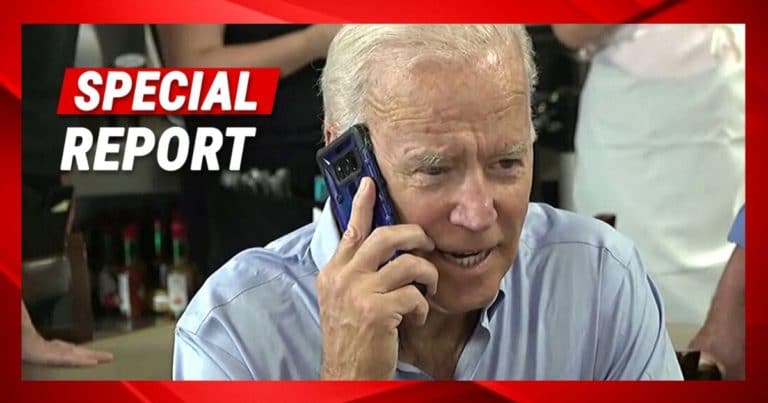 Joe Biden is in deep trouble—and the cracks are starting to show.
After finishing in 4th place in Iowa, and even worse in New Hampshire, he is facing an uphill battle.
If he doesn't perform in South Carolina, it's all over. You can imagine how his supporters are feeling right about now.
All that hard work. All that time. All that money. All for nothing.
So, Joe jumped on the phone to beg them to stick around. But he couldn't help sounding desperate.
From Politico:
Former Vice President Joe Biden — after his pair of devastating losses — tried to reassure supporters on an evening call Wednesday that "things haven't changed" and that there's been "no dropoff in our endorsers."

"I'll be damned if we're gonna lose this nomination, particularly if we're gonna lose this nomination and end up losing an election to Donald Trump," Biden said on the call, adding that he's "not sugarcoating" his chances and that he "feels really good."
Uh-oh, Joe. You don't sound very confident.
He tried to put on a "brave faces" (so to speak) while talking to supporters. But clearly the man is feeling the pressure.
He said, "I'll be damned" if he loses this nomination and lets Trump win. But that doesn't mean you're going to win, Joe.
His campaign is looking to a few more states to give him a boost. But can he pull out a win in Nevada or South Carolina?
Maybe, if he lasts long enough until Super Tuesday, things might turn around. But it's a long way until March, my friends.
And good o' Joe seems like he's running out of steam.
It looks like all the gaffes, temper tantrums, and family connections finally caught up with him.
SHARE if you think Joe Biden is finished!
Source: Politico