Minutes After Christian School Tragedy – President Biden Delivers Jaw-Dropping Response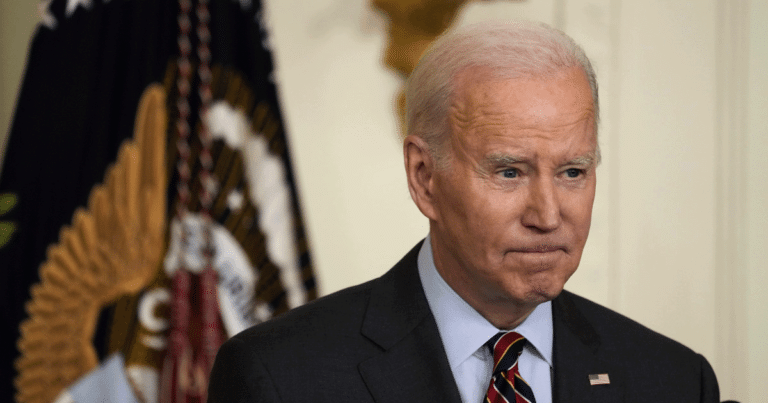 What's Happening:
This week, the nation was shocked to learn about a school shooting in Nashville. Despite all the warnings Republicans have made, urging schools to be prepared, it seems not everyone is listening. The media is scrambling to find a narrative for this tragedy since the alleged shooter was reportedly transgender.
Regardless of their spin, it is required of the president to issue a statement after such crimes. A real leader would show a measure of sobriety in the face of such evil. He would provide compassion and grief, in light of the event. Instead, we have Joe Biden. And his reaction was downright appalling.
From Daily Wire:
Biden, who was speaking to an East Room full of female business owners, began his remarks by joking that he had only joined them because he'd heard there was going to be ice cream.

"My name is Joe Biden. I'm Dr. Jill Biden's husband. And I eat Jeni's ice cream — chocolate chip. I came down because I heard there was chocolate chip ice cream," he said. "By the way, I have a whole refrigerator full upstairs. You think I'm kidding? I'm not."
Biden: "My name is Joe Biden. I'm Dr. Jill Biden's husband. And I ate Jeni's ice cream. Chocolate chip. I came down because I heard there was chocolate chip ice cream. I have a whole refrigerator full upstairs." pic.twitter.com/W3vu3XXSgU

— Washington Free Beacon (@FreeBeacon) March 27, 2023
What the heck? Yes, this event had been planned prior to the shooting. But when the president is going to make an appearance, after a tragedy occurs, the first thing on everyone's mind is that tragedy.
A president must set a serious tone, before addressing a shooting. He doesn't joke around with his group of vile supporters, who caw at his empty comments. This was disgusting, inappropriate, and beneath the dignity of the White House and our country.
Obviously, Biden's staff had coached him on what to say when he entered the room. And the man is too senile to be able to suddenly shift gears. Nobody in their right mind would talk about ice cream after six people were gunned down.
But this is how pathetic the Biden administration really is.
You might be wondering what Biden did say when he finally got to the shooting. Nothing that offered comfort and hope. As usual, he and his Democrat goons rushed to push gun control.
That's the only thing they can offer the country: restrictions on our liberty, wealth, and dignity. Biden has no ideas on how to actually stop shootings, only canned responses pushing policies we know don't work.
He said nothing about the mental health of young Americans, nothing about securing schools, and nothing about protecting law-abiding Americans' rights. Just the same, tired nonsense that only leads to more bloodshed.
But at least we know what his favorite ice cream flavor is.
Key Takeaways:
Joe Biden made jokes after news of the Nashville shooting broke.
Biden made an appearance after the event, joking about his favorite ice cream.
The Democrat went on to address the shooting, pushing for strict gun control.
Source: Daily Wire