Biden Rocked by New International Scandal – Joe Does Nothing As Americans Die in Conflict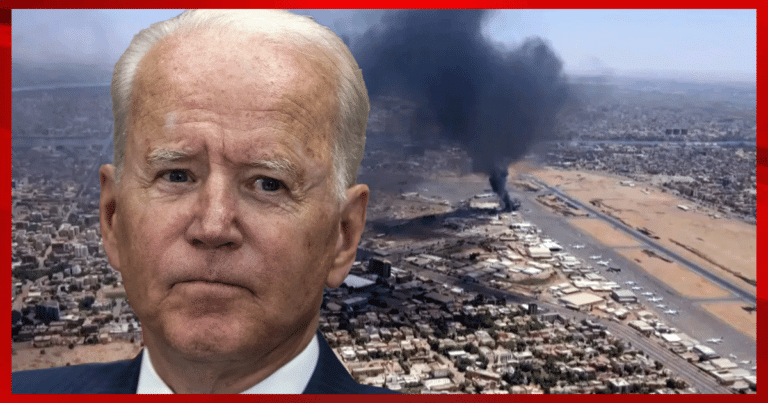 What's Happening:
You might not know about what is going on in Sudan. War has erupted in the African country. Meanwhile, the liberal media tries to distract from as much as they can. The fighting has become so bad in the capital city, that embassies are emptying out their offices. But there are still many U.S. citizens in danger.
From The Epoch Times:
White House National Security Council spokesperson John Kirby said on Wednesday that a second American citizen has died in Sudan amid an ongoing violent conflict between the army and a paramilitary group.
The danger for Americans is great, as these killers would love nothing more than to take U.S. citizens hostage. Other countries, such as Japan, South Africa, and Egypt are successfully evacuating their citizens. But guess what Biden just told tens of thousands of stranded Americans?
From Fox News:
The U.S. has extracted its diplomatic staff from Sudan, as security conditions in the country worsened late last week, but the evacuation left thousands of Americans behind.

In a security alert Tuesday, the State Department reiterated that "due to the uncertain security situation in Khartoum and closure of the airport, it is not currently safe to undertake a U.S. government-coordinated evacuation of private U.S. citizens."
Wow, sounds familiar, huh? Once again, Biden's State Department is refusing to evacuate American citizens from a war-torn country. Last time, he left behind tens of thousands of Americans in Taliban-controlled Afghanistan.
Now, Biden's State Department told about 16,000 Americans stranded in Sudan that they won't be coming for them. Biden's failed Secretary of State, Antony Blinken, claimed the situation was "too dangerous" and that Americans' only hope is to "shelter in place."
Meanwhile, European and Middle Eastern countries have no problem getting their people out of there. Nations including France, Germany, Italy, the United Kingdom, Spain, Holland, and Turkey are evacuating citizens. But America won't?
How badly can one president fail? He repeatedly neglects real crises hurting Americans. But he'll bend over backward to buy solar panels from China! Does Biden even have a brain? Because he doesn't have a heart. No president with a conscience can ignore Americans when they are in harm's way.
Yet the media will say nothing. And few in Congress will do anything to hold Biden accountable for this criminal neglect.
Key Takeaways:
Biden's State Department has abandoned U.S. citizens in Sudan.
Sudan is facing conflict as paramilitary groups attacked the capital.
Other countries, including the UK and Japan, are evacuating their citizens.
Source: The Epoch Times, Fox News