After Manchin Vows to Stop Biden in His Tracks – Joe Doesn't Expect the Response of Patriots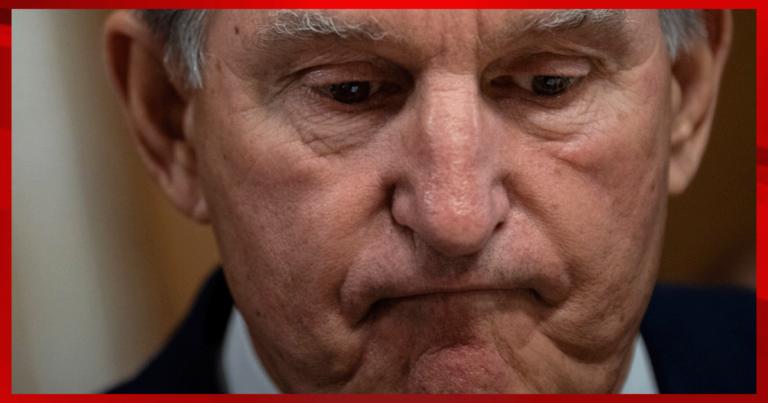 What's Happening:
Sen. Joe Manchin knows he's in big trouble. He is a Democrat senator from a red, Trump-loving state. For a while, he managed to cling on by opposing Joe Biden's socialist agenda. But he jumped off the deep end last year when he voted for Biden's falsely-named "Inflation Reduction Act." The bill would have died, had Manchin not voted for it.
Now, he is really regretting it.
Manchin is up for re-election in 2024! And he's done little to convince his conservative state that they should keep him. Republicans are already building a case to take his seat. So, the moderate is scrambling to win back voters. But this is pretty pathetic.
From Fox News:
Sen. Joe Manchin, D-W.Va., was criticized on Twitter after he threatened to repeal President Biden's Inflation Reduction Act Monday night despite being the deciding vote in its passing…

He added: "Let me be clear: if this continues, I'll do everything in my power to stop them — including voting to repeal the IRA."
Oh, really? Now Manchin is upset about this bill? What, he didn't realize Biden would abuse this legislation to push climate change and not lower inflation? We all knew he would do that! Manchin's sudden protest is coming off pretty empty. And users were quick to tell him that.
From Fox News:
"You gave them the deciding vote to do it and now are trying to pretend every bit of damage it causes isn't your fault"…

"Lol dude you did this," Daily Signal columnist Tony Kinnett responded…

Another said: "You literally made this mess Joe."

"Your fault man. Yours," said a user.
Joe Manchin wants voters to forget he helped pass this radical spending bill. He could have stopped it by simply not voting for it. But he did so, because Chuck Schumer promised him a pipeline for West Virginia. Manchin assumed his state would be grateful for the pipeline, even though he doomed their children's futures.
But the pipeline deal fell through after House progressives blocked it. Not even old Chuck was willing to go to bat for Manchin. The senator screwed over his state for nothing. Now, he is panicking, knowing a strong Republican candidate can knock him out of the Senate.
He might be talking tough now, but where was this boldness last year?
Key Takeaways:
Manchin vowed to "repeal" Biden's inflation bill, despite voting for it last year.
Users online were quick to criticize Manchin, who is up for re-election next year.
Manchin hails from a deep red state and could easily lose his seat.
Source: Fox News