Fetterman Gets Concerning Omen at Senate Rally – In Final Hours, Video Shows Wind Gusts Blowing Down Old Glory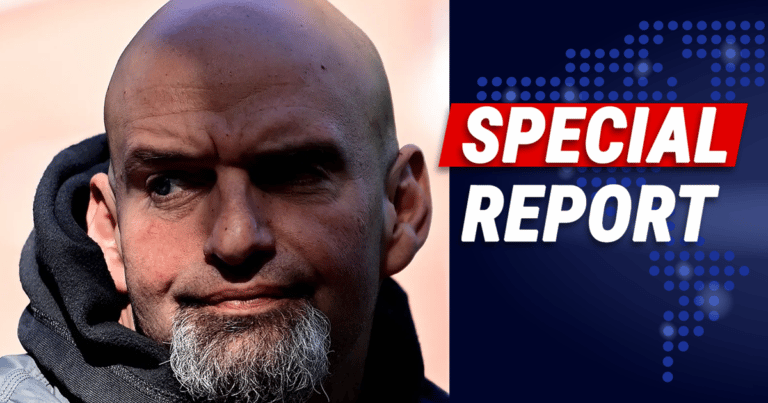 What's Happening:
Despite all basic human decency, Democrats are letting John Fetterman continue his race for U.S. Senate. If his debate against Mehmet Oz didn't convince you he is unfit, you really aren't paying attention. It seems pretty clear that he hasn't recovered from his stroke. And with the election this week, he continues to fumble.
During a recent speech, he made a bizarre comment about Roe v. Wade.
From Daily Mail:
Pennsylvania Democratic Senate hopeful John Fetterman and stroke victim mangled his words yet again on the campaign trail, accidentally saying he was against abortion.

'I run on Roe v. Wade. I celebrate the demise of Roe v. Wade,' he said…

A televised debate performance last month shocked some viewers and only sowed further concerns of his ability to hold political office.

'Hi, goodnight everyone,' Fetterman said, before addressing his health. 'Let's also talk about the elephant in the room: I had a stroke. [Oz] never let me forget that.'
This is a VERY LOW ENERGY crowd for John Fetterman pic.twitter.com/uMracz9teT

— RNC Research (@RNCResearch) November 5, 2022
His own supporters were confused by this mangled statement. Video showed his listener confused and troubled by his statement. Was he celebrating the demise of Roe? Or was he trying to say something else? We don't know, nor are we going to make assumptions.
In another appearance, something happened that perfectly illustrated his campaign.
From Fox News:
Twitter users were stunned as video of Democratic U.S. Senate candidate John Fetterman's latest rally showed several American flags directly behind him get blown over by strong gusts of wind as soon as he began speaking.

Users wondered if it was an ominous sign for Fetterman's performance on Election Day this year. Others called it the "perfect metaphor" for the Democrat's campaign.
John Fetterman's rally is off to a great start… pic.twitter.com/51UtJQ9cM8

— RNC Research (@RNCResearch) November 5, 2022
Every last American flag was blown over–and Fetterman didn't even notice. As usual, he appeared confused and lethargic at these recent events. The man seems unable to put together one coherent thought. Most voters should be worried that he is mentally and physically unfit for office.
But yet Democrats are saying nothing. Even Biden and Obama were on hand to help this man win. We can only conclude they don't care if he hasn't recovered from his stroke. So long as they can hold onto a seat in the U.S. Senate. They'd have a balloon in that seat, as long as it voted Democrat.
Key Takeaways:
John Fetterman continued to struggle on the campaign trail, days before election.
He claimed he "celebrated" the demise of Roe v. Wade.
Twitter users mocked as American flags blew down just before one of his appearances.
Source: Daily Mail, Fox News