John Kelly Sees Tangled American Flag, Refuses To Wait For Others To Take Action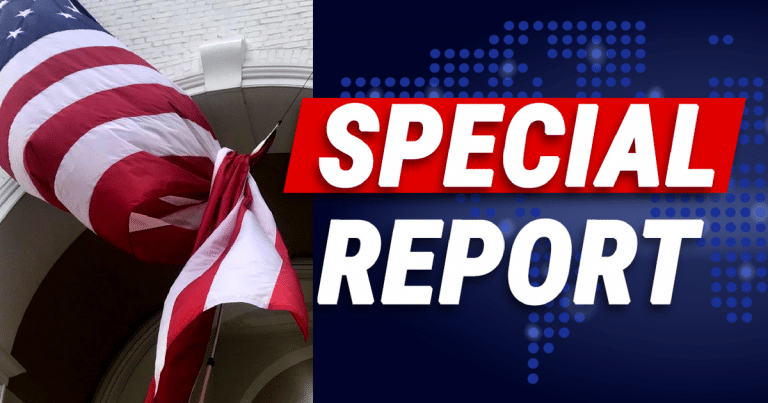 He may be Donald Trump's chief of staff, but Marine John Kelly leads by taking action.  Now we know his true character from this unexpected moment.
When Kelly took over as White House chief of staff, things changed rapidly. He tightened up the ship, so to speak, and ended a parade of leaks. He instituted a strict process for speaking with the President. And he's not afraid of confronting rapid Democrats who disgrace the office.
But perhaps this single moment encapsulates just the kind of man he is. And why the President appointed him in charge of his office.
From IJR:
White House chief of staff John Kelly spent 43 years in the Marines serving the United States and protecting the American flag, and that didn't stop when he took a new job.
Presidential Assistant Dan Scavino Jr. caught the chief of staff untangling a flag, prompting the old phrase "Once a Marine, always a Marine."
.@WhiteHouse Chief of Staff, General John F. Kelly stops by to assist Bedminster staff in readjusting a huge American Flag…

"Once a Marine, always a Marine" pic.twitter.com/bviGulBPb4

— Dan Scavino Jr. (@Scavino45) July 8, 2018
Kelly's service to the country spans four decades, three wars, and countless days away from his family while on active duty.
After joining the Marine Corps in 1970, Kelly went onto become the Four Star General of the U.S. Southern Command.
During his service, Kelly also spent time as a Liaison Officer to Capitol Hill and the Senior Military Assistant to the Secretary of Defense, grooming his political leadership.
Kelly is a tireless leader. His discipline comes from years of service in the Marine Corp. Much like Secretary of Defense John Mattis, Donald Trump selected Kelly because of that discipline and dedication.
We haven't seen this caliber of leadership in the White House in a long time. The men and women who serve Donald Trump don't do so out of prestige. They're not in it for accolades or the praise of the media elite. Many of them are trashed and insulted by the scum of the D.C. swamp. But they proudly serve because of their dedication to the United States.
That's definitely what we see in this simple photo. Kelly is a man who puts country first. Like many patriots across the country, he's proud to show respect to our flag.
Plenty more could learn a thing or two from him.
Source: IJR