Jon Voight Gets the Attention of All Patriots – He Just Issued a Challenge and a Promise for the Future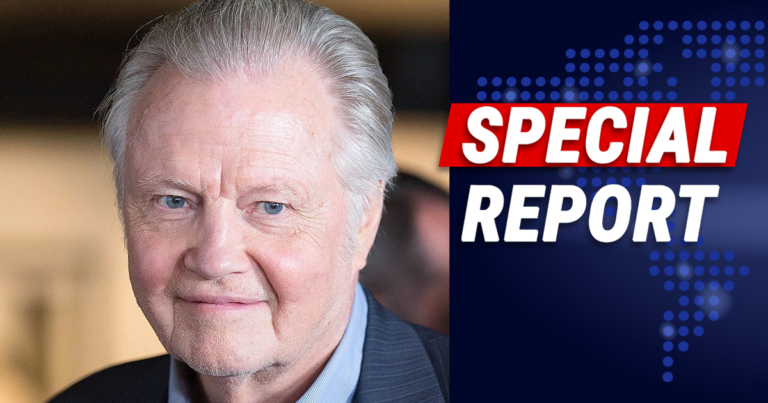 What's Happening:
The results of the 2022 midterms have some Americans confused. They were expecting a red wave, but when it didn't happen (in some parts) they devolved into bickering and finger-pointing. Republicans are trying to figure out what happened, but it seems they are missing the big picture.
Enter Jon Voight. The beloved actor is an outspoken patriot and American conservative. He has long spoken out in support of traditional American values. And he recently posted a viral message challenging and calling on all Americans.
From Daily Wire:
Conservative actor Jon Voight sent a message of hope to Republicans after the 2022 midterm results failed to show a Red Wave, and said "a change is coming."

Voight closed out the video by calling on "fellow Americans" to "bring back life, justice, truth in the only land that's meant for dreams of goodness, the land of the free, America, the greatest land, the greatest soil for mankind. The land where heroes fought for their truths … much love to you."
Wake up America pic.twitter.com/k0RiXEyrwN

— Jon Voight (@jonvoight) November 13, 2022
Jon Voight posted a message to his Twitter account calling on Americans to pray for the country. He warned that we are on the verge of disaster, including a "third world war." In response, he challenged Americans to pray for their nation.
Specifically, Voight urged Americans to pray that Donald Trump would return to the White House. Voight seems convinced that a President Trump can help right this ship and restore America's greatness.
Although this kind of message could come off as dark and ominous, Voight sounded hopeful. His message was one of encouragement, giving hope to many who might feel hopeless. He reminded viewers that America is the "land of the free" where "heroes fought for their truths."
He ended the video by wishing "much love" to his viewers.
While it is common for people to argue and complain after elections, Voight seems to have the right attitude. He isn't putting his trust in the outcome of one election, but in God and in the American people.
He is appealing to the country to stand firm in their convictions and faith. And to above all trust for a brighter future.
Key Takeaways:
Jon Voight posted a video that went viral, urging Americans to pray for the nation.
He urged Americans to pray for President Trump to return to office.
Voight offered hope and encouragement in the midst of dark times.
Source: Daily Wire, Twitter