Jim Jordan Unloads Huge Threat in Washington – Here's His Brutal Response To The FBI's Latest Demand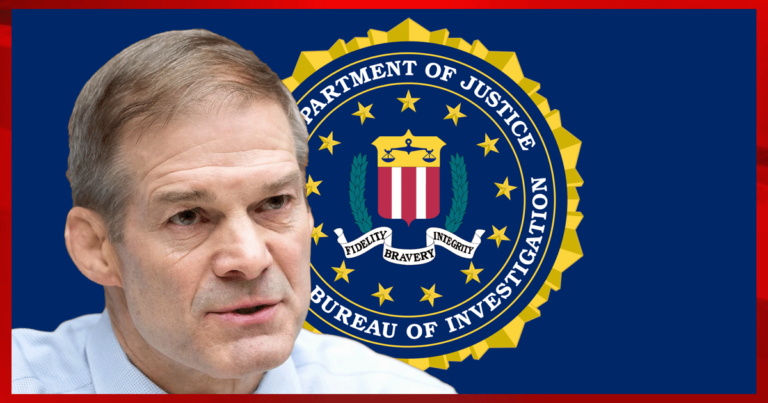 What's Happening:
At this point, nobody in America should think the FBI has the country's best interests in mind.
The agency has been outed again and again for gross political bias. For years, the top brass at the agency have abused their power to help Democrats win elections and even censor free Americans.
And we only know a portion of what's really going on!
To the shock of many, the FBI is unrepentant. In fact, they want more money and more power to destroy our democracy and eradicate our rights. The agency even demanded Congress to approve funds for a brand new HQ in Washington, D.C.
But House Republicans, led by Rep. Jim Jordan, had something else in mind.
From Daily Wire:
"None of the funds made available in this Act may be used to build a new FBI headquarters," the chairman wrote. "In addition, the FBI is directed to submit an operational plan within 90 days to move the FBI Headquarters out of the National Capital Region."

He added, "The operational plan should also consider the existing resources and infrastructure available at the FBI's Redstone Arsenal Campus in Huntsville, AL."
Boom! Jim Jordan is leading the House's committee investigating the weaponization of government. He has uncovered how Democrats in the DOJ, FBI, and beyond have abused their power to help their political party. They are only just scratching the surface of what Biden and these agencies have done.
He blasted the FBI for demanding funds to build a new headquarters in D.C. Instead, Jordan is ordering the FBI to consider moving its main center of operations to another state, perhaps Alabama.
Jordan and other Republicans have long criticized the consolation of federal agencies in D.C. They warn that too much power is concentrated in one city, giving rise to the kind of abuses we've learned about.
By moving the FBI somewhere outside of D.C., it will be harder for the swamp to get its hooks in it– the FBI will be forced to actually focus on defending American citizens, rather than propping up the agenda of D.C. insiders.
But will Jordan be successful at moving this agency to Alabama? I guess we'll have to wait and see.
Key Takeaways:
Jim Jordan called on the FBI to move its HQ outside of Washington, D.C.
He has been investigating federal agencies for weaponizing their power.
Republicans have been demanding federal agencies be moved out of D.C.
Source: Daily Wire