After Liberals Try To Blackball Josh Hawley's Book – The Senator Turns The Tables And Lands A New Publisher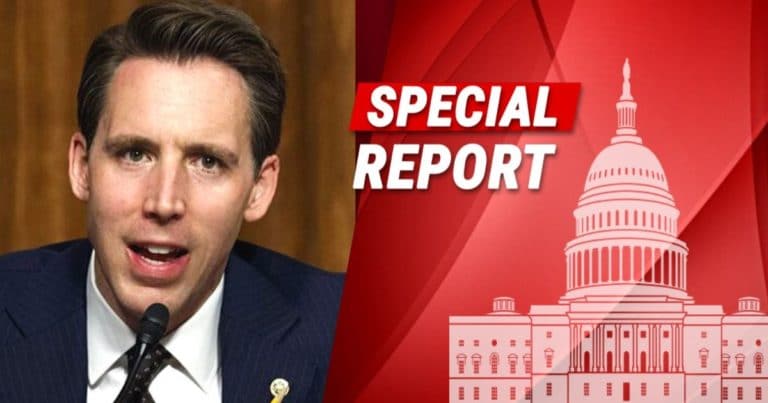 What's Happening:
Sen. Josh Hawley took the unpopular approach to defend our democracy. He simply wanted Congress to take a look at the 2020 election—as many Democrats did in recent presidential elections.
The media branded him (and other Republicans) some kind of enemy of the state. Democrats in the Senate even want him removed under the 14th Amendment (something they have little chance of doing).
A liberal publisher "punished" Hawley by canceling his book deal. But Hawley quickly turned the tables. From AP News:
Sen. Josh Hawley has found a new publisher after his book was dropped by Simon & Schuster…

The conversative publisher Regnery announced Monday that Hawley's "The Tyranny of Big Tech" will come out this spring.

"Regnery is proud to stand in the breach with him. And the warning in his book about censorship obviously couldn't be more urgent," Regnery President and Publisher Thomas Spence said in a statement.
Many Americans might not realize just how liberal most major book publishers are. They are happy to publish conservative books, but only if they think it will make them cash.
After the events of January 6, as the media attacked Sen. Hawley, it was easier for Simon & Schuster to just drop him.
It's possible they broke their own agreement with Hawley, who suggested he might go to court over it. In the meantime, the senator wanted to get his book published, so Americans can hear his thoughts on Big Tech "tyranny."
The good news is, there are still some publishers out there who still seem believe in free speech. Regnery quickly came to Hawley's side and agreed to publish his book.
The president of the company went further, embracing the need for such a book to come out now. It's no secret many Americans are waking up to the reality that Big Tech has too much power.
Will you be reading Hawley's new book, when it comes out?
Key Takeaways:
Democrats attacked Sen. Hawley for standing up for our democracy.
His book was dropped by Simon & Schuster as "punishment."
A conservative book publisher picked up the book instead.
Source: AP News