Federal Judge Blindsides Stormy Daniels, Drops A Pricey Anvil On Her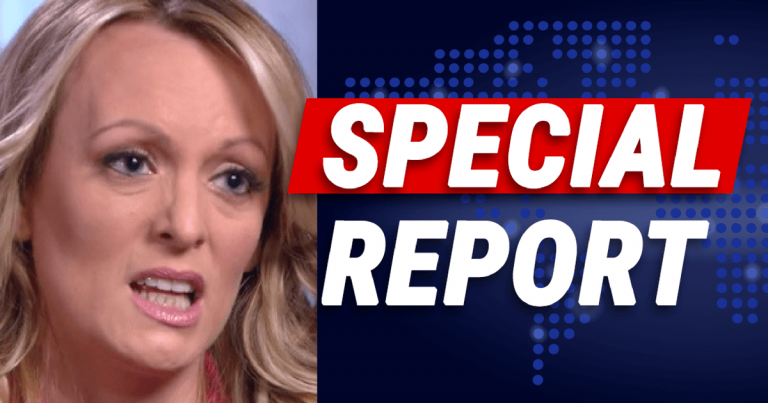 Trump biggest victory yet is going to cost Stormy a lot more than she bargained for.
The whole Stormy Daniels saga has been a joke from the beginning. It's a shame that this woman receives as much media attention as she does.
When the media is obsessed with getting the President impeached, any story to discredit him will do just fine. So they have been more than willing to give Daniels and her lawyer, Michael Avenatti, a platform.
Daniels' defamation lawsuit against the President caused a spike in CNN's ratings for a bit earlier this year, but now we're learning that it was yet another publicity stunt.
This time, however, Daniels is going to have to pay. The storm has caught up with Stormy.
From Fox News:
A federal judge in Los Angeles on Monday threw out adult-film actress Stormy Daniel's defamation lawsuit against President Trump on free-speech grounds.
As Fox News previously reported, Daniels, whose real name is Stephanie Clifford, sued the president in April over a tweet in which he denied her claims of being threatened by a man in a Las Vegas parking lot in 2011.
Daniels said the man was threatening her for going public about an alleged sexual encounter with Trump in 2006. Trump has denied the affair took place, and cast doubt on her story of being threatened.
A sketch years later about a nonexistent man. A total con job, playing the Fake News Media for Fools (but they know it)! https://t.co/9Is7mHBFda

— Donald J. Trump (@realDonaldTrump) April 18, 2018
Not only did the judge throw out Stormy's defamation suit, he's also ordered her to pay Trump's legal fees!
Trump's new attorney Charles Harder told Fox News that the ruling was, "total victory for President Trump and total defeat for Stormy Daniels."
SHARE if you want everyone to know about Trump's latest victory – the media won't!
It's unclear how much money Daniels will have to cough up to pay these fees, but it will likely be in the six-figure range.
Stormy is finally getting what she deserves, and now she needs to drop her other case against the President. The whole "hush money" lawsuit is just as ridiculous as her defamation suit and is yet another waste of time.
The judge's decision is another hard blow to Michael Avenatti, whose career is in tatters after this and the Kavanaugh accusations.
But that's what you get when go against the winners. You become a YUGE loser.
SHARE if you're glad Trump won the case!
Source: Fox News