Justice Department Drops Strzok Hammer – They Just Released A Laundry List Of Peter's Security Violations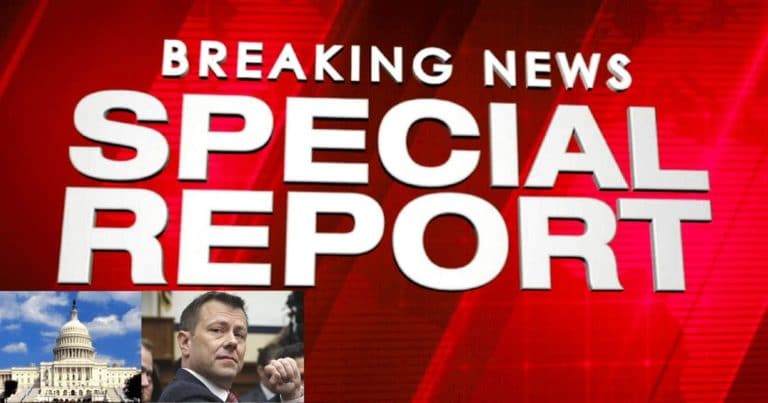 Peter Strzok thought he buried it – but it all out there now!
Peter Strzok led the charge within the FBI to take down a sitting president. But that was only the beginning of what he was up to!
Thankfully, he has been fired. But, like so many other swamp dwellers, Strzok sued the government for wrongful termination.
Not only that, but he was demanding to be reinstated as chief of the counterespionage division at the FBI.
Right, as if Trump was going to put an Anti-Trumper in such an important position!
But the good news is, the Justice Department is not about to let this guy back in. And they just released a treasure trove of evidence that should put his lawsuit into an early grave.
From Fox News:
The Department of Justice released documents Monday outlining a slew of "security violations" and flagrantly "unprofessional conduct" by anti-Trump ex-FBI agent Peter Strzok — including his alleged practice of keeping sensitive FBI documents on his unsecured personal electronic devices, even as his wife gained access to his cellphone and discovered evidence that he was having an affair with former FBI attorney Lisa Page.
Wow. I mean, you have to be crazy to think anyone would rehire this guy back into the FBI.
Not only was Strzok trying to undermine the 2016 Election by helping Hillary, but he committed a slew of security violations.
The DOJ released documents that proved Strzok's "unprofessional conduct." How unprofessional? How about keeping sensitive FBI documents on an unsecured device, including a cellphone he used to text his mistress.
He was so bad at securing data, that his wife found out about the affair, by just looking at the phone!
This guy couldn't even keep his affair a secret and he wants to be in charge of counterespionage?
The DOJ also charged him with "dereliction of supervisory responsibility" because he refused to investigate Clinton's classified emails that were found on Anthony Weiner's laptop.
Well, I think we know why he did that. Strzok was outed a ways back for texts he made to his mistress about his "insurance plan," for stopping Trump from entering office.
He was the one who helped end the original investigation into Clinton's email server. To say he was a partisan hack abusing his power to manipulate this democracy is an understatement.
He shouldn't be given his old job back. In fact, we have to ask why this guy isn't in jail!
Strzok tried to interfere with the election by squashing Hillary's investigation. He then talked about stopping Trump from entering office with the Russian hoax.
How could any of this be allowed? Why isn't the DOJ going after him for these obvious crimes?
Americans need to rise up and demand justice. Strzok thought he could control the course of our country, all by himself.
He needs to face justice, don't you think?
SHARE if you want Strzok to lose his lawsuit—and face real justice!
Source: Fox News