After Justice Roberts Blocks Rand Paul On Whistleblower – The Senator Responds To The Chief Justice: He Will "Fight For Recognition"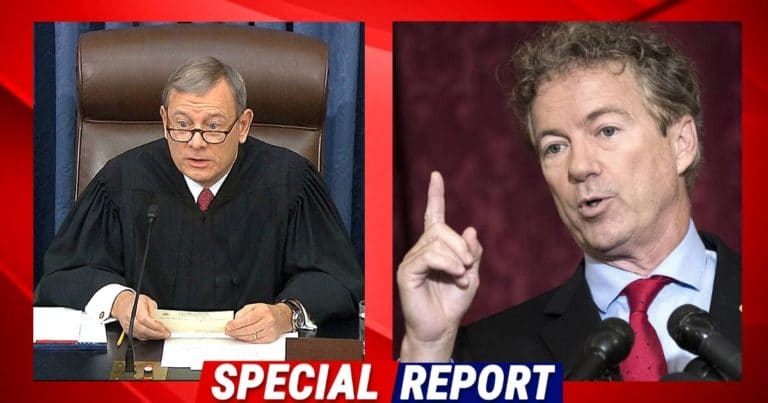 It appears that Democrats want to control the Republican-majority in the Senate. Maybe they got used to how they pushed Republicans around in the House inquiry.
Do they think they can do the same in the Senate?
Chuck Schumer forced the opening session of the impeachment trial to last well into the night. He tried to get nearly a dozen amendments passed—as if he's in charge of the Senate.
What's even more surprising is that the Chief Justice of the Supreme Court—a Bush appointee—seems to be willing to help the Democrats.
He seems to be towing the party line that the so-called "whistleblower" needs to remain anonymous. He even blocked Senator Paul in a stunning display.
From Fox News:
Chief Justice of the United States John Roberts blocked Kentucky Republican Sen. Rand Paul from posing a question during the Senate impeachment trial Wednesday that would have named the alleged whistleblower at the center of the case.
Uh, what? First Chief Justice Roberts rebukes both Democrat House managers and Trump's legal team, even though the Trump team was just calling out Nadler crossing the line.
Now, he seems to be helping the Democrats by protecting the whistleblower's identity?
Most astute followers of this case already know the man's name. It's practically a joke that senators can't mention the name of the man who first accused Trump of wrongdoing, sparking this entire process.
But Rand Paul is not taking this lying down.
"I don't want to have to stand up to try and fight for recognition," Paul shouted, according to reporter Niels Lesniewski, who noted that Paul's complaint was "audible from the galleries above the chamber."

"If I have to fight for recognition, I will," Paul said.
Boom. Rand Paul made it clear that he would not be corralled by Roberts. He said if he had to "fight for recognition," he will.
It's hard for many of us to believe that a man who is accusing a duly-elected President can hide behind anonymity.
According to some reports, his identity is widely known on Capitol Hill. Yet Democrats—and John Roberts—won't allow the mention his name?
Does President Trump deserve the right to confront his accuser or not?
Perhaps more senators need to join with Paul and demand this silence end.
SHARE if you want Republicans to stand up with Rand Paul and call out the whistleblower!
Source: Fox News