This Is Not A Joke – Kamala Is Sitting Down With Bill Clinton For A SHOCKING Reason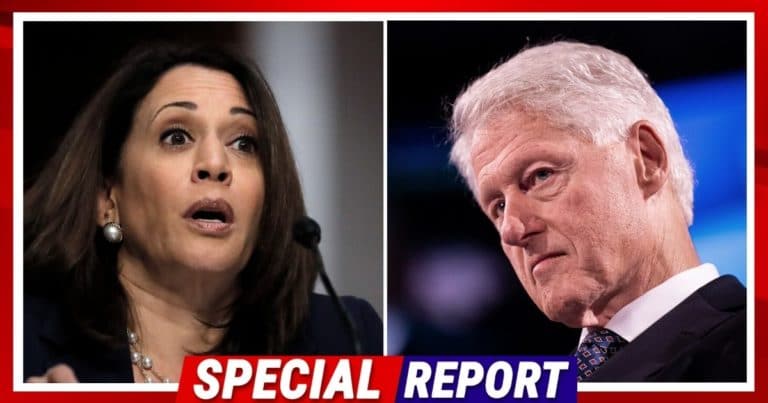 What's Happening:
Kamala Harris dropped out of the 2020 primaries before voting even began. She only had one moment in the Sun, when she called out Joe Biden for the many accusations against him.
Then she crashed and burned, thanks to her own amazing lack of charm, intelligence, and vision.
Yet now, it appears she has given up whatever convictions she once had to hold onto her seat of power.
She was an outspoken supporter of the #MeToo movement when she was a lowly senator.
Yet since she's joined with Biden, she hasn't said a word about Andrew Cuomo's ongoing scandals.
Now, she is sitting down with infamous skirt-chaser Bill Clinton. You won't believe for what.
From Daily Wire:
Vice President Kamala Harris is set to go "one-on-one" with former President Bill Clinton this week during an event about "empowering women and girls." …

"Kamala Harris will go one-on-one with Bill Clinton on Friday to talk about the impact of COVID-19 on women, and empowering women and girls in the U.S. and around the world as part of a Clinton Global Initiative event."
Uh… what? A former #MeToo booster is going to "sit down" with a serial offender to talk about empowering women?
Does Harris know about all the things Clinton has been accused of? Forgetting his disgraceful scandal while still in the White House, Bill Clinton's reputation for inappropriate behavior has only continued since.
Empowering women? When has anyone thought Bill Clinton can say anything about that? That's like asking a pimp how to protect a young woman's virtue.
Why on earth did they go with Bill Clinton for this session? Shouldn't it be Hillary, you know, the female part of the Clinton's? (As far as we know.)
Did they screw up their own event? Do the people putting this together really think a man frequently accused of mistreating women (for years) can say anything about empowering women?
And why did Harris agree to this? What does she have to say about empowering women? She got to where she was because a man picked her.
Has she done anything to help empower anyone but herself? Has she "empowered women and girls" at any time during her career?
And this is about COVID!? Are you kidding me? Democrats are the last people qualified to talk about helping people through the pandemic.
Since, you know, they made the crisis so much worse.
Key Takeaways:
Kamala Harris will be going "one-on-one" with Bill Clinton at an upcoming event.
The two Democrats will be talking about "empowering women and girls."
The talk will cover how COVID impacted women around the world.
Source: Daily Wire