Kamala Harris Just Got Humiliated – By Her Own California Hometown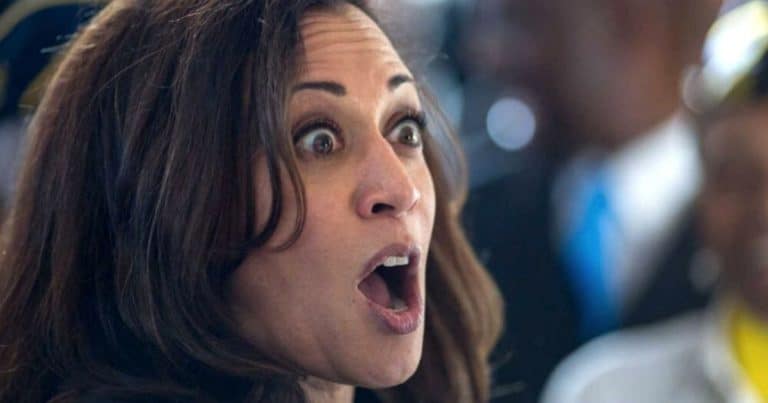 What's Happening:
Where in the world is Kamala Harris? The first female "vice president" has so far been a dud.
Outside of casting a few tiebreaking votes in the Senate, the woman is all but MIA. When, of course, she is not laughing like an idiot at Americans' hardships.
Biden picked her to deal with the border crisis, which was his way of saying nothing will get done.
Instead of working, she has flown to California. And for a woman who supposedly got "80 million" votes along with Joe, her reception was downright embarrassing.
From Twitter:
Here's the motorcade as it left, heading to West Oakland for another stop at Red Door Catering pic.twitter.com/citRVMEdpV

— Matt Boone (@MattBooneNews) April 6, 2021
Vice President Kamala Harris is taking a tour of the @ebmud Upper San Leandro Water Treatment Plant in Oakland. She'll then head to a small business and then to a round table discussion with local business leaders.
Does America even know that Kamala Harris is the "vice president"? Because nobody back home seemed to know.
Or they didn't seem to care!
While Harris got a motorcade to take her around her hometown, very few people showed up to greet her.
How few? Well… I think I saw someone standing nearby. But they might have been walking a dog.
Compare that to the kind of crowds that greeted even Trump's AG, Bill Barr. Whenever Trump or Pence were around, you couldn't move because of the hordes.
This is just more proof that the "Biden administration" is really nothing at all. It is not composed of leaders with vision, who are putting Americans first.
At best, Harris and Biden seem to be just puppets, doing the bidding of the radical left and global corporations.
And the American people know it.
Harris couldn't get 2% support during the primaries. She was running 5th in her own state before she dropped out of the primary race—before any votes were cast.
Are we surprised that nobody in CA even cares that she's there?
Even Democrats don't care to show up and see this woman. (It's as if they know that this presidency is a joke!)
Would you show up if Kamala came to your town?
Key Takeaways:
Harris visited her hometown in California, instead of dealing with the border crisis.
Virtually nobody was around to greet her motorcade.
It seems like few in CA even care about the "first female vice president."