Kamala's Prediction Comes Back To Haunt Democrats – She Claimed Virginia Election Foreshadows 2022, 2024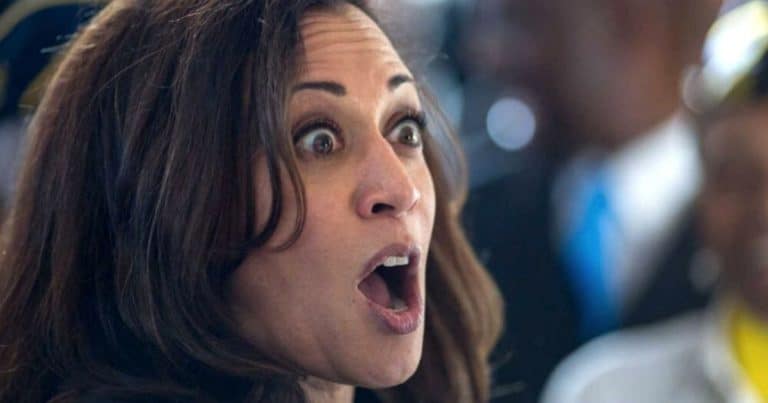 What's Happening:
Democrats put all their eggs in winning bit this election year. Some of their biggest figures went to bat for candidates running in close state races. Much of their focus was on Virginia's governor race. Obama, Biden, and others flew to VA to coerce voters into electing unimpressive Democrat, Terry McAuliffe.
Good ol' Kamala Harris went to Virginia as well. The California Democrat urged Virginians to vote for a man who attacked parents. She even tried to get churches to play a video of her during religious services. She made a dire prediction of what might happen if Republicans won the state.
I guess she's in big trouble, huh? From Fox News:
Back when she was campaigning for former Gov. Terry McAuliffe, Harris said, "What happens in Virginia will, in large part, determine what happens in 2022, 2024, and on."…

Analysts have described the Virginia gubernatorial election as a "bellwether" election for the 2022 midterms, suggesting that Youngkin's victory presages a Republican win next year.

If Harris' prediction holds, that means Republicans would have an edge in the 2022 midterm elections and the 2024 presidential election, and on.
Oops! In a desperate attempt to scare voters into going to the polls, Kamala Harris told Democrats that the VA governor race would determine what would happen in 2022, 2024, and future elections. And, as it turned out, Republican Glenn Youngkin clinched the race against Terry McAuliffe.
Does that mean Harris has sealed her party's fate for next year's midterms and the next presidential election? Looks like way. After all, she was only saying the obvious. It's not as if someone as dull as Harris has any insight of her own. She is simply looking at the writing on the wall.
And that writing appears to be saying, "Democrats are in big trouble."
We've seen signs that Democrats will lose big in 2022 for months. In 2020, Democrats lost House seats as Republicans gained seats. Now, with many Democrats retiring (and Republicans redistricting state maps), there is even more reason to believe they will lose the House.
Considering the close 50-50 Senate, even just a few races can give Republicans a majority.
Add to that Democrats' ongoing policies of restrictions and mandates. Americans blame Democrats for harsh policies that kept kids out of schools and businesses struggling to survive. Everything Democrats do in D.C. has contributed to our inflation, worker shortage, and supply chain crisis. They've done little to help.
Now, in a major election, a blue state has elected its first Republican in years. This is with the nearby D.C. swamp trying to hold Virginia down. Voters came roaring back to give newcomer Youngkin a major win.
What's worse for them, they seem to be taking all the wrong lessons from this defeat. They have said they lost because they failed to push trillions in new inflationary spending through fast enough, so they should be more dedicated to getting their radical plan through. More likely, they've grown far too radical even for their own voters.
What does that mean for 2022, 2024, and on? Nothing good for Kamala and her cronies.
Key Takeaways:
Kamala Harris predicted the VA governor race could determine future national elections.
She said it could influence "2022, 2024, and on."
Republicans took the governorship in a massive liberal upset.
Source: Fox News