Kamala Tries To Claim Trump Lost China Trade War – So Pence Sets The Joe Biden Record Straight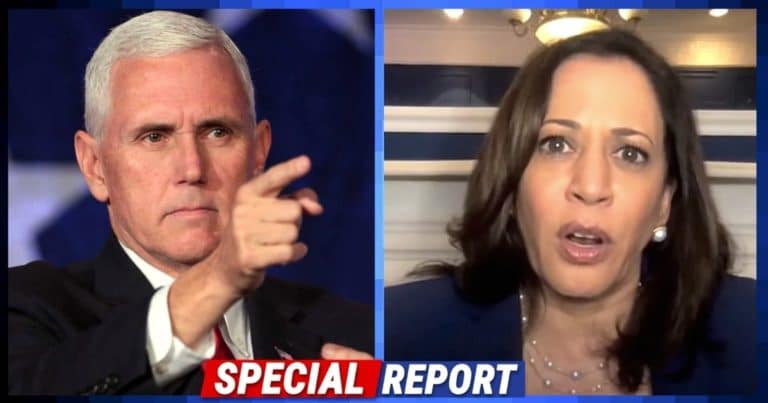 What's Happening:
To the disappointment of the left, Harris struggled in last night's debate.
She seemed to pull numbers out of thin air—and spouted opinion as fact.
Instead of discussing policy, she spent much time criticizing the president.
Unfortunately for Harris, Mike Pence is sharp as a razor. He fired back with real numbers she couldn't deny.
Harris actually claimed Trump "lost" the trade war with China, saying 300,000 jobs were gone.
(A number no one can find.)
Pence fired back with a zinger, reminding everyone about China Joe Biden:
"I'd love to respond. Look, 'lost the trade war with China'? Joe Biden never fought it. Joe Biden has been a cheerleader for Communist China over the last several decades," Pence said. "And again, Senator Harris, you are entitled to your opinion; you're not entitled to your own facts. When Joe Biden was vice president, we lost 200,000 manufacturing jobs and President Obama said they were never coming back. He said we needed a 'magic wand' to bring them back."
Pence explained to the senator (who should have known this), that under Trump we brought back 500,000 manufacturing jobs.
The vice president hit Joe Biden—explaining that under Obama/Biden, we lost 200,000 jobs. Even Obama said those jobs "weren't coming back."
Trump defied the experts and actually fought China to bring back manufacturing to America.
Thanks to him, he not only scored better deals but have seen jobs pouring back into the U.S.
Joe Biden was practically a cheerleader for the communist nation, as Pence explained.
Biden was saying China's corrupt government "weren't bad folks," as he sipped champagne with our rivals.
The former vice president watched as countless jobs bled from the country. (Meanwhile, his son cashed in big from Chinese investors.)
China was so upset about what Pence was saying, it appears their TV networks actually blocked the debate while he was speaking.
That's pretty telling, isn't it? When Harris talked, the feeds seemed to come back on.
Who do you think China wants to win in November, Trump or Biden?
Key Takeaways:
Harris claimed 300,000 jobs were lost when Trump "lost" the trade war with China.
Pence explained Trump brought back 500,000 jobs.
Biden, while VP, watched as 200,000 fled to China.
Source: Daily Wire