After Kanye Brings Nick Fuentes to Mar-a-Lago – Donald Trump Quickly Sets the Record Straight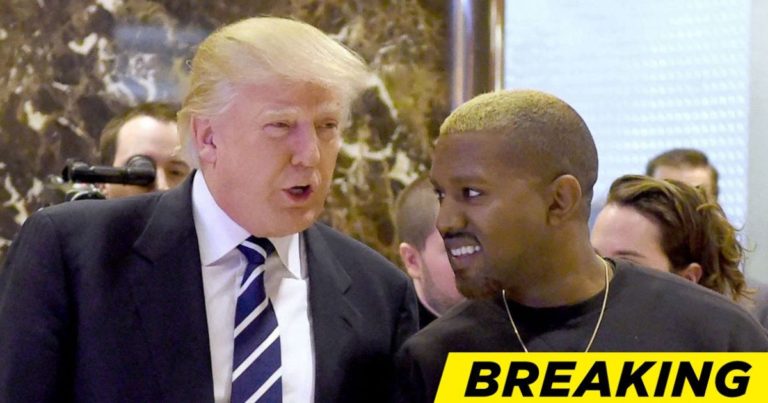 For a long time, Kanye West and former President Donald Trump were allies. In fact, the two seemed to be "BFFs" for several years, which sparked plenty of controversy around D.C. and Hollywood.
But Trump has had a rough few weeks since announcing his 2024 run, and his previously solid relationships appear to be crumbling.
"Ye" is the latest friend to get on Trump's bad side — though now it seems Donald has set the record straight.
The internet lit up when West visited Trump at his Mar-a-Lago home in Florida last week. It wasn't the visit itself that sparked attention; it was the fact that West brought white supremacist Nick Fuentes.
Trump having dinner with Fuentes quickly hit news sources everywhere, and the negative headlines erupted all across the country.
However, Trump's official response to this seems to have been either missed or ignored: he took to Truth Social to clear the air about the visit and ast it turns out, he wasn't aware of the guest:
In the reply, Trump calls West "seriously troubled" and added that he showed up with 3 people, "two of which I didn't know, the other a political person who I haven't seen in years."
West has already come under heavy fire for antisemitic comments, which have caused him to lose some valuable sponsorships.
As for Fuentes, Trump claims to know nothing about him, nor that he was coming to Mar-a-Lago. In fact, Donald said he thought Kanye was going to come alone.
The other of West's guests was former Trump aide Karen Giorno, evidently the person Trump hadn't "seen in years."
Then Trump said he gave Kanye some harsh advice regarding West's 2024 presidential run:
I told him don't run for office, a total waste of time, can't win.
Though it's hard to say if West has officially announced a 2024 campaign, he did say in a recent video that Trump was angry because Kanye asked him to run with him as vice president.
He added that Trump was "basically screaming at me at the table telling me I was going to lose."
But it's the situation with Fuentes that is getting most of the attention, so it's interesting to hear Trump say he never invited Fuentes in the first place. And it seems apparent he didn't really know anything about him.
That didn't stop most mainstream media outlets from running "Trump dines with white supremacist" headlines, though.
Since Trump announced his 2024 campaign, it seems clear to many that the negatively-slanted hit pieces just keep coming, despite anything the former President might say to clarify the issue.
Key Takeaways:
Former President Donald Trump reacted to Kanye West bringing white supremacist Nick Fuentes to Mar-a-Lago.
Trump said he thought West was coming alone, and doesn't know anything about Fuentes or his views.
Trump also told Kanye not to run for president in 2024 because it would be a "total waste of time."
Source: Breitbart