'Kavanaugh Doxxer' Pleads Guilty – He's Going To Prison For Blackmailing And Extorting Senators For 4 Years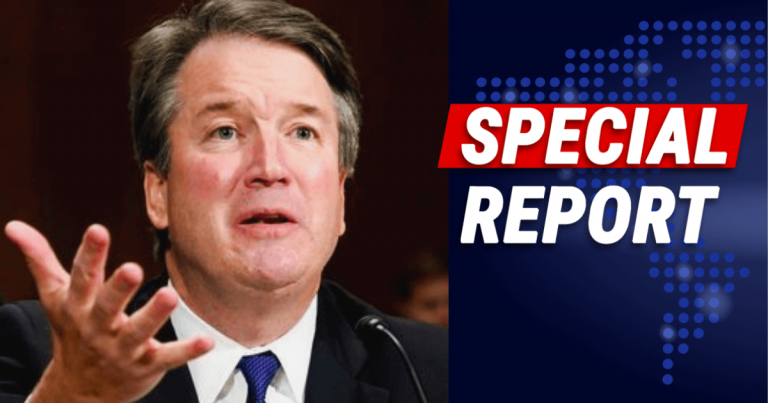 The Democrat went after Republicans to take down Justice Kavanaugh – now he's getting justice!
During the dramatic Kavanaugh hearing, one crime really took the cake.
Someone working in the Senate released the personal information about Republican senators who supported the SCOTUS nominee.
It was a way to punish and intimidate lawmakers who were standing up for the judge. That's really terrible – and dangerous.
But it was worse than we thought. Investigators discovered a host of crimes committed by this person.
Now he's facing serious charges—and bringing the heat down on the Democrats he worked for.
From Daily Caller:
A former aide to Sen. Maggie Hassan and Rep. Sheila Jackson Lee is headed to prison Wednesday for what prosecutors said was the largest known data theft in Senate history.

The former aide, Jackson Cosko, pleaded guilty in April to crimes related to an unparalleled effort to ransack a Senate office, extorting a Democratic senator, illegally harming Republicans for their political views, and blackmailing a witness.
Jackson Cosko worked for Democratic lawmakers Maggie Hassan and Sheila Jackson Lee. He was the one who doxxed numerous Republicans during the Kavanaugh hearings.
Doxxing, if you don't know, is the act of releasing a person's private information (like their home address) to the public.
It's possible that because of Cosko, Sen. Rand Paul was attacked at his home.
Cosko was the subject of an investigation and guess what they found? The man—who had been fired in the past for criminal actions but later hired by Hassan—broke into Senate offices and stole data from at least six computers.
According to reports he wanted to "punish" people who disagreed with his politics. He stole memos, emails, and other documents to acquire personal data to release online.
This man thought he could jeopardize the safety of Republicans and their families, just because he didn't like their politics.
Totally unacceptable. Now he's facing years in prison because of his gross actions.
UPDATE: He has been officially sentenced.
From Politico:
A former aide to Sen. Maggie Hassan (D-N.H.) was sentenced to four years in prison…
You have to wonder why Democratic lawmakers entrusted this man to work—in their IT departments.
He had a prior criminal record. That's a big red flag if you're looking to hire someone to work on sensitive computer networks.
Why would Democrats not bother to look into his past, or just ignore it? Because of this man, several senators were in danger.
Representative Hassan, why did you hire him? Rep. Sheila Jackson Lee, how did you let him work for you and then you just happened to slip an envelope to Ford's lawyer during the hearing? Major problems going on.
Maybe we need another investigation, actually into people of power this time.
Who knows what could have happened to their families or children? It wasn't that long ago when a leftist opened fire on a group of Republicans on a baseball field.
If you ask me, this man deserves at least 4 years, if not more.
SHARE to make sure everyone knows this Democrat is paying for his crimes!
Source: Daily Caller, Politico